Zuchetti & Vegan Pesto
Ingrediënten
courgette
6-8 kleine zoete tomaatjes
rijstolie
gedroogde Italiaanse kruiden
35 gram kastanje champignons
1/2 stuks avocado geschild en ontpit
35 gram doperwtjes (uit het vriesvak maar ontdooid!)
grijs zout
olijfolie extra vierge
5-8 gram pijnboompitten
paar verse basilicum blaadjes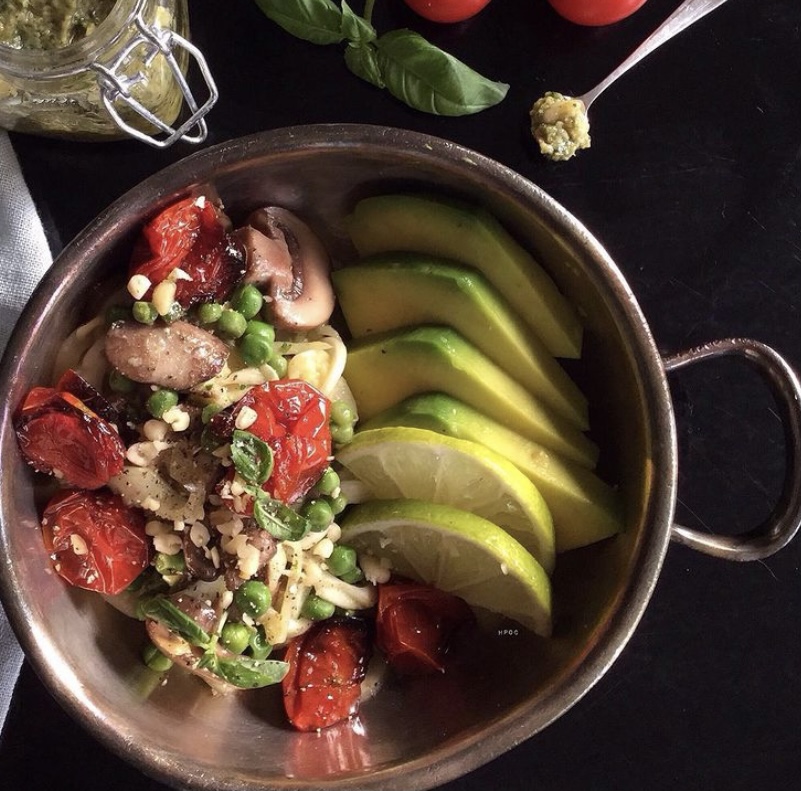 Instructions
Verwarm de oven voor op 210 graden celsius (hete lucht). Plaats de tomaatjes in een ovenschaaltje en besprenkel deze met een beetje rijstolie en gedroogde Italiaanse kruiden en wat grijs zout.
In de oven plaatsen en na 15 min. de oven uit zetten maar laat het schaaltje met de tomaatjes tenminste 45 min. in de oven staan (hou de oven dicht).
Maak nu de pesto ( voor het recept en de ingrediënten van de pesto: Vegan Pesto )
Snij daarna de courgetti: 1 courgette in de schil goed gewassen of geschild. Gebruik een spiraalsnijder en snij smalle reepjes courgette.
1 eetlepel rijstolie in een -wok- pan op middelhoog vuur even heet laten worden.
Roerbak nu de gesneden champignons en de ontdooide doperwtjes circa 2 minuten totdat de champignons glazig bruin zijn. Roerbak de courgetti op het laatst heel kort mee (circa 30 sec.)
Hussel alles door elkaar samen met of 2 -3 theelepels pesto. Verdeel nu de tomaatjes over de courgetti en garneer met de avocado wat grof gehakte pijnboompitten, zwart gemalen peper nog een beetje pesto en een paar verse basilicumblaadjes.
Alternatieve bereiding
Voor meerdere porties alle ingrediënten vermenigvuldigen door in het servings vakje het aantal te verhogen.
Alle ingrediënten naar keuze biologisch.
Uiteraard kun je deze variant ook maken met pasta van deeg. Roerbak dan bovenstaande ingrediënten zonder de courgetti. Gebruik dan circa 60 gram (ongekookt) Kamut pasta of pasta van spelt. Giet deze pasta af en roer er een kleine theelepel extra vierge olijfolie door en 2 of 3 theelepels ( naar smaak) pesto. Verdeel de tomaatjes bovenop de pasta en garneer met nog een beetje pesto, wat grof gehakte pijnboompitjes, wat gemalen zwarte peper en een paar blaadjes verse basilicum.
Ingredients
1 piece courgette
6-8 pieces small sweet tomatoes
rice oil
dried Italian herbs
35 grams mushrooms
1/2 piece avocado peeled and seeded
35 grams peas ( but thawed from the freezer!)
gray salt
Ground black pepper
olive oil extra virgin
5-8 grams pine nuts
few fresh basil leaves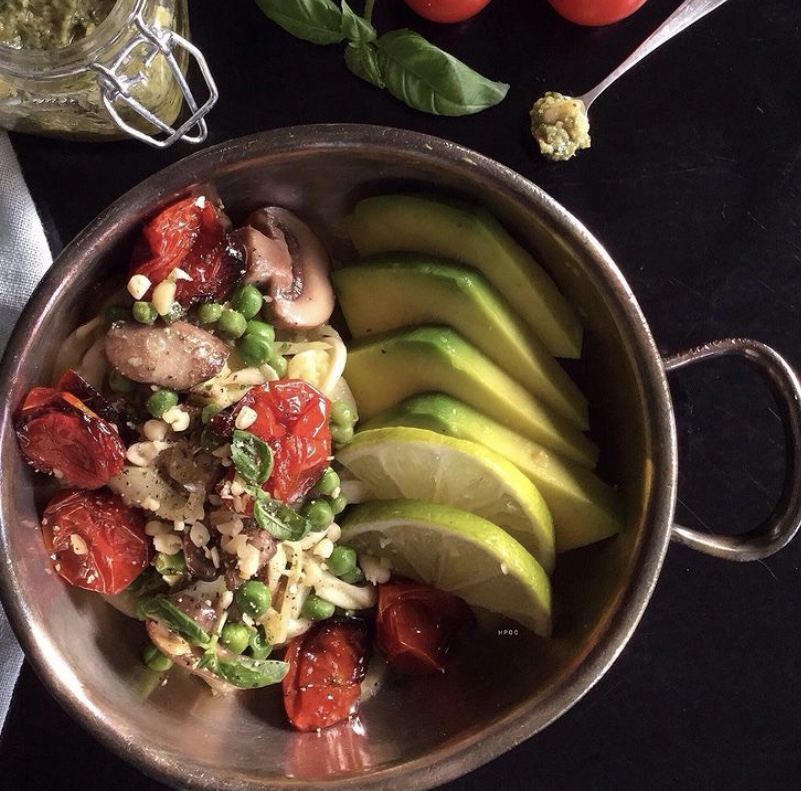 Instructions
Preheat the oven to 210 degrees Celsius (convection). Place the tomatoes in a baking dish and sprinkle with a little rice oil and dried Italian herbs and some gray salt.
Place tomatoes in the oven and after 15 min. turn off the oven. But leave the tomatoes at least 45 min. In the oven (keep the oven closed).
Make the pesto ( for the recipe and the ingredients for the pesto: Vegan Pesto)
Cut the zuchetti: 1 courgette into the skin thoroughly washed or peeled. Use a spiral cutter and cut thin strips of zucchini.
Heat 1 tablespoon rice oil in a saucepan over medium heat. Now stir-fry the sliced mushrooms and thawed peas for 2 minutes until the mushrooms are brown glassy.
Stir-fry the zuchetti at the end (about 30 sec. ) together with the mushrooms & peas. Toss everything together with 2 -3 teaspoons of pesto.
Top zuchetti with the tomatoes and garnish with avo, coarsely chopped pine nuts, black ground pepper a little pesto and a few fresh basil leaves.
Alternitive methode
For several servings multiply all ingredients by increasing the number in the servingsbox.
All ingredients organic of your choice .
Of course you can also make this version with pasta dough. Stir-fry over above ingredients without Zuchetti. Use approximately 60 grams ( uncooked) Kamut pasta or pasta of spelt. Drain the pasta and stir in a small teaspoon of extra virgin olive oil and 2 or 3 teaspoons ( to taste) pesto. And then follow the above recipe again.