Blueberry Lemon Loaf
Ingrediënten
Beslag
200 ml sojayoghurt bio & gmo vrij
75 gram kokosolie eerst wegen dan smelten
120 ml koolzaadolie geschikt voor warme bereidingen
150 gram appelmoes puur en ongezoet
1,5 stuks citroen, biologisch sap
1,25 tl puur vanille-extract
200 gr zelfrijzend bakmeel* via de biologische supermarkt, vrij van meuk
150 gr boekweitmeel
10 gr wijnsteenbakpoeder
100 gr erythritol via de biologische super of online
zest van 1 citroen biologisch
150 gr blauwe bessen gewassen, via versafdeling super
Frosting
125-150 gram kokosroom harde laag van gekoeld blik kokosroom
1 tl erythritol optioneel)
25 gr wilde bosbessen* ontdooid verkrijgbaar via vriesvak super
45 ml sojayoghurt
partjes citroen 1/4 deel partjes
zest van een halve citroen bio!
snufje gedroogde eetbare lavendel lavendel culinair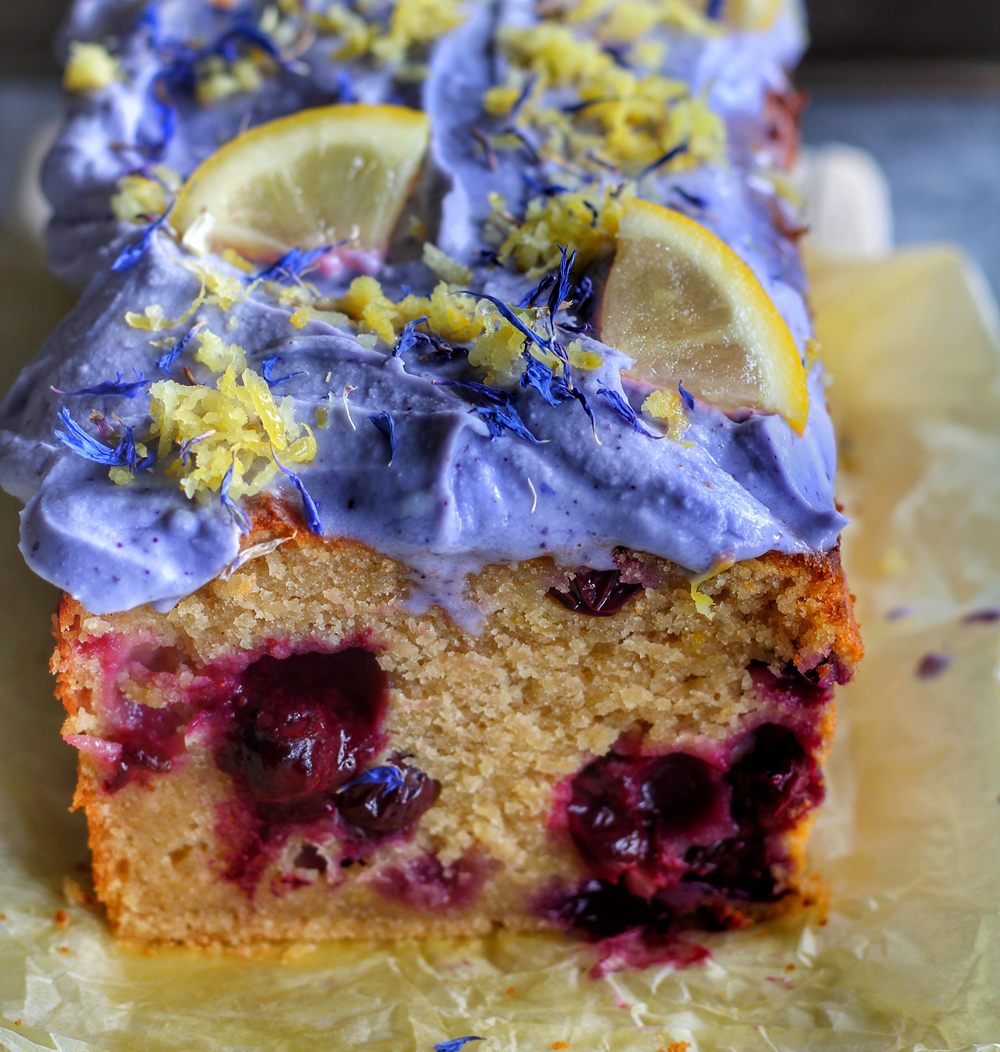 Instructions
Voorbereiding
1 blik volvette kokosmelk tenminste 24-48 uur rechtop in de koelkastplaatsen.
Benodigdheden
Rechthoekige cake bakvorm 24 cm
Bakpapier
Blender
Garde
Maatlepels
Elektrische handmixer
Instructies
Was de citroenen goed en dep ze droog. Rasp eerst van 1 hele citroen een fijne zest*. Schep de zest over in een bakje en rasp daarna van de halve citroen een fijne zest en schep deze over in een ander bakje, deze zest gebruik je later voor de garnering. Knijp de citroenen vervolgens goed uit door een zeefje en vang het sap op in een schaaltje.
Meng de eerste 6 ingrediënten voor het beslag (de natte delen) bij elkaar in een kom door met een garde het mengsel goed op te kloppen.
Meng de overige 4 ingrediënten van het beslag (de droge delen) in een andere kom, roer goed met een (pol)lepel. Wacht nog even met het toevoegen van de blauwe bessen en de zest.
Warm de oven voor op 200 graden.
Vet het cakeblik licht in met wat neutrale olie en bekleed het blik met bakpapier.
Roer nu de natte delen uit de ene kom goed door de droge delen in de andere kom net zolang tot er een mooi glad mengsel ontstaat. Roer vervolgens de zest er goed door en roer daarna de blauwe bessen voorzichtig door het beslag.
Verdeel het beslag gelijkmatig over de bakvorm en plaats in het midden van de voorverwarmde oven. Bak de cake in circa 45-50- min, of totdat goudbruin en gaar. (de tijd kan variëren per oven).
Check met een sate prikker of de cake (nagenoeg) droog en gaar is. Ik hou ervan als een cake nèt niet helemaal droog is.
Laat de cake helemaal goed afkoelen.
Mix de wilde blauwe bessen samen met de sojayoghurt tot een glad paars mengsel in de blender.
Schep de hard geworden kokosroom van het blik kokosmelk en klop deze circa in 2,5 min met een elektrische handmixer tot een luchtige room.
Voeg optioneel 1 tl erythritol toe.
Roer een deel van het paarse mengsel, totdat je de kleur mooi vindt, of gebruik alles, door de opgeklopte kokosroom.
Drink het overige deel dat je niet gebruikt lekker op.
Haal de cake voorzichtig uit de vorm en laat verder afkoelen voordat je de frosting erop aanbrengt.
Drapeer de opgeklopte paarse kokosroom over de cake.
Bestrooi met de zest, een vleugje gedrooge lavendel en optioneel met klein gesneden citroenpartjes.
De cake met de frosting er eenmaal op aangebracht gekoeld bewaren. Vries evt. plakjes in.
Ingredients
Batter
200 ml soy yogurt organic & GMO free
75 grams coconut oil weigh first, then melt
120 ml rapeseed oil suitable for hot preparations
150 grams apple sauce pure and unsweetened
1,5 piece lemon, organic juice
1,5 tsp pure vanilla extract
200 grams self-rising flour * via organic supermarket with no nasties
150 grams buckwheat flour
10 grams baking powder
100 grams erythritol via organic super or online
zest of 1 lemon organic
150 grams blueberries washed, fresh via super fresh department
Frosting
125-150 grams coconut cream hardened layer of cooled can coconut cream
1 tsp erythritol optional
25 grams wild blueberries* thawed available via super freezer
45 ml soy yogurt
lemon wedges 1/4 part wedges
zest of half a lemon organic
pinch of dried edible lavender culinary lavender
Instructions
Preparation
Place 1 can of full-fat coconut milk upright in the refrigerator for atleast 24-48 hours.
Necessities
Rectangular shaped baking tin 24 cm
Baking paper
Blender
Whisk
Electric hand mixer
Measuring spoons
Instructions
Wash lemons well and pat dry. First grate a fine zest*of 1 lemon. Spoon the zest into a container and then grate a fine zest of half a lemon and transfer it to another container, which you use later for garnish. Then squeeze lemons well through a sieve and collect the juice in a bowl.
Mix the first 6 ingredients for the batter (wet parts) together in a bowl by whipping the mixture well with a whisk.
Mix the other 4 ingredients of the batter (dry parts) in another bowl, stir well with a spoon. Wait a while before adding the blueberries and zest.
Preheat the oven to 200 degrees Celsius .
Lightly grease cake tin with some neutral oil and line the tin with baking paper.
Now stir wet the parts from one bowl well through the dry parts in the other bowl until a nice smooth mixture is formed. Then stir the zest well and stir afterwards the blueberries gently through the batter.
Spread the batter evenly over the baking tin and place in the middle of the preheated oven. Bake the cake in approx 45-50 min, or until golden brown and cooked.(time may vary by oven).
Check with a skewer whether the cake is (almost) dry and cooked. I love it when a cake is not completely dry.
Let the cake cool completely.
Mix the wild blueberries together with the soy yogurt into a smoothpurple mixture in the blender.
Spoon the hardened coconut cream from the can of coconut milk and beat it in an airy cream for approx. 2.5 minutes with an electric hand mixer. Optionally add 1 tsp erythritol.
Stir a part of the purple mixture, until you like the color, or use everything, through the whipped coconut cream.
Drink the remaining part you don't use..
Carefully remove the cake from the mold and let it cool further before applying the frosting.
Drape the purple coconut cream over the cake.
Sprinkle with zest, a touch of dried lavender, and optionally with small sliced lemon wedges.
Once the frosting has been applied, keep the cake refrigerated.
Freezing slices is also an option.