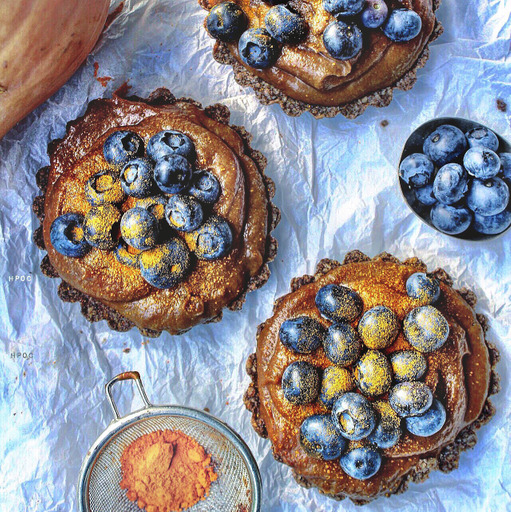 Boekweit zand taartjes & zoete pompoen crème
Ingrediënten
90 gram boekweitmeel
50 gram hazelnootmeel
20 gram kokosbloesemsuiker
10 gram wijnsteenbakpoeder 
40 gram Glutenvrije geroosterde havermout 
snufje zout
100 gram kokosolie (eerst  wegen dan smelten )
1 theelepel Puur vanillepoeder
Vulling 
225 gram pompoen afgekoeld ( goed afgieten )
4 stuks Medjoul dadels ontpit en in stukjes
8 gram Pumpkin spices @greengypsyspices
10 gram Carobepoeder
1 stuks grote banaan in plakjes
25 gram gesmolten kokosolie
Garnering
blauwe bessen
Kurkuma poeder
Instructies
Glutenvrije havermout eerst fijn malen in de blender. In plaats van hazelnootmeel te gebruiken kun je ook rauwe hazelnoten malen. Maal deze dan nu ook mee in de blender.
De gemalen havermout samen met de andere ingrediënten voor de bodem in een mengschaal samen roeren tot een egaal los deeg.  Maak er een bal van en leg verpakt in vershoudfolie 30-35 minuten weg in de koelkast ( niet langer !)
Verdeel het deeg nu over de taartvormpjes. Druk het deeg ook tegen de rand van de vorm aan. 
Hete lucht oven voorverwarmen op 180 gr  en plaats de taartjes circa 10 min. in het midden van de voorverwarmde oven. Check goed tussendoor. Laat afkoelen en plaats tenminste 45 min in de vriezer totdat de bodempjes goed hard geworden zijn. 
Maak nu de vulling. 
Vulling
Snij een stuk van een pompoen (gewicht 225 g) en verwijder de schil met een dunschiller. Snijd in plakjes en schep de zaden met een lepel er uit.
Breng het water aan de kook en voeg de plakken pompoen en kook in ca. 14-17 minuten al dente. 
De pompoen afgieten laten afkoelen en samen met de andere ingrediënten van de vulling tot een gladde mousse in de blender mixen. Plaats de vulling in een bakje tenminste 30 minuten in de koelkast. 
Besmeer de taartbodems royaal met de crème en garneer met lekker veel blauwe bessen en een klein beetje gezeefde kurkuma poeder. Verdeel de taartjes in twee of 4 delen. Je kunt ook een deel eventueel invriezen en bewaren voor later. 
Notities 
Ik ben heel benieuwd naar jouw Healthy Piece Of Cake Creaties. Tag en hashtag #healthypieceofcake op Instagram of FB. Let's Inspire One Another!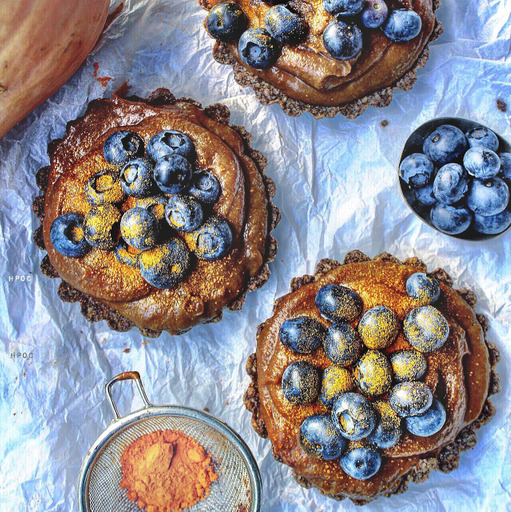 Buckwheat Shortbread Cakes & Creamy Pumpkin Spread
Ingredients 
90 grams buckwheat flour
50 grams Hazelnut flour
20 grams Coconut sugar
10 grams Baking powder
40 grams gluten-free roasted oatmeal
1 pinch gray salt 100 grams coconut oil (first weigh then melt ) 
1 teaspoon Pure vanilla powder 
Filling
225 grams pumpkin cooked, cooled (well drained)
4 pieces medjoul dates pitted and in pieces
8 grams Pumpkin spices @greengypsyspices
10 grams Carob powder
1 piece large banana (peeled & sliced )
25 grams melted coconut oil
Garnish
 Turmeric powder
 Blueberries
Instructions
Necessities
4 tartforms of 9 cm ø grease lightly with hazelnut oil or hemp oil.
Preparation
Gluten-free oatmeal first grind in the blender. Instead of using hazelnut flour, you could also grind raw hazelnuts. Grind them  together with oatmeal into the blender.
Mix the ground oatmeal together with the other ingredients for the crusts in a mixing bowl. Form a smooth loose dough. Make a ball and put in wrapped foil 30-35 minutes away in the fridge (no longer!)
Now divide the dough over the cake molds. Press the dough against the edge of the mold.
Preheat hot air oven to 180 degrees Celsius and place the cakes for about 10 minutes in the middle of the preheated oven. Check well in between. Allow to cool and place in the freezer for at least 45 minutes until the crusts have become hard. 
Now make the filling
Filling
Cut a piece of pumpkin (weight piece: 225 g) and remove the peel with a vegetable peeler. Cut into slices and scoop the seeds with a spoon. Boil water. Add the pumpkin to the water boil for approx. 14-17 minutes until al dente.
Allow the pumpkin to cool and mix in a blender together with all other ingredients for the filling, into a smooth mousse. Place this mousse in a bowl for at least 30 minutes in the fridge
Top the crusts  generously with cream/mousse and garnish with a lot of blueberries and a little bit of sifted turmeric powder. Divide the cakes into two or four pieces. You can also place a part in the freezer and save for later.
Notes 
I'd love to see your Healthy Piece Of Cake Creations on Insta. Tag & Hashtag #healthypieceofcake Let's Inspire One Another!