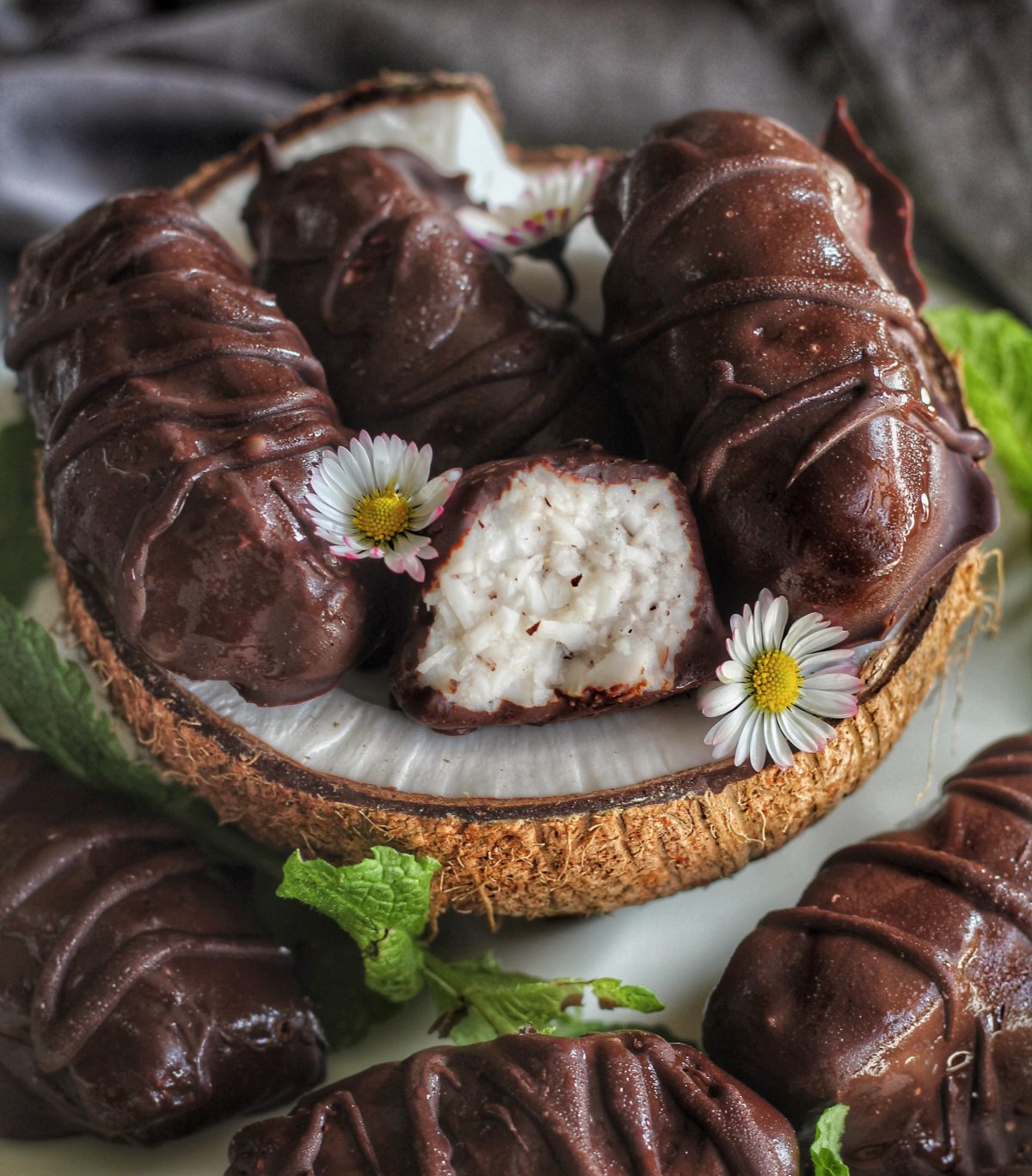 Bounty Bars
[English Below]
Voor  4 -8  porties 
Bereidingstijd: 50 min
Ingrediënten
150 g geraspt vruchtvlees van een verse kokosnoot ( van de verse kokosnoot met bruine harige bast)  
75 g zachte kokosolie op kamertemperatuur 
30 ml donker & biologische Agave siroop 
5-10 g rauwe cacao 
150 g zuivel vrije pure chocolade 85% cacao
Zo maak je het
Plaats alle ingrediënten - behalve de cacao en de chocolade reep- samen in de blender en mix tot een redelijke gladde substantie. Zet de blender uit en roer goed. Haal het mengsel uit de blender en vorm met je - schone- handen circa 8 of 9 kleine reepjes. Leg ze nu 25 min. weg in de vriezer. 
Smelt au bain marie de chocolade reep in blokjes. 
Dompel de reepjes helemaal goed onder de gesmolten chocolade en strooi er een heel klein beetje gezeefde rauwe cacao over. 
Bewaar in de vriezer (-17 graden) in een afgesloten bakje tenminste 30 min. 
Bewaar je de Bounty Bars lang in de vriezer dan eerst 20 min. - niet langer- op kamertemperatuur laten liggen voordat je ze consumeert. Vanuit de koelkast meteen te eten en circa 3 dagen houdbaar. 
Note:
De zuivel vrije 85% cacao chocolade is in de regel niet suikervrij maar bevat relatief weinig suiker. 
Je kunt via de Biologische supermarkt ook vaak pure chocolade krijgen gezoet met stevia of agave i.p.v. suiker. 
Ik gebruik zelf kokosolie die:
Biologisch is 
Koudgeperst en niet ontgeurd is ( =Virgin) 
En in glas is verpakt. 
Op youtube kun je checken hoe je voorzichtig een verse kokosnoot open maakt. 
Je kunt ook in sommige supermarkten verse kokos in stukjes krijgen. Dat is relatief duurder omdat je dan 3 of 4 bakjes van 100 gram nodig hebt om 150 gram vruchtvlees te kunnen raspen. Soms kun je ook op de markt verse kokos in stukjes krijgen.
Ik ben heel benieuwd naar jouw Healthy Piece Of Cake Creaties. Tag en hashtag #healthypieceofcake op Instagram of FB
Let's Inspire One Another!
Bounty Bars
For 4-8
Prep time: 50 mins 
Ingredients 
150 g grated flesh of a fresh coconut (coconut with brown hairy bark )
75 g coconut- oil soft at room temperature 
30 ml dark & Organic Agave Syrup
5-10 g raw cacao
150 grams of dairy-free dark chocolate 85% cocoa
Method 
Place all ingredients - except for the cocoa and the chocolate bar - together in the blender and blend until reasonably smooth. Turn off the blender and stir well. Remove the mixture from the blender and form about 8 or 9 small strips/bars with your clean hands. Now put them away in the freezer for 25 minutes.
Melt the chocolate (in pieces) au bain marie.
Dip the strips/bars completely  in the melted chocolate and sprinkle a little bit of sifted raw cocoa on top.
Store in the freezer (-17 degrees) in a closed container for at least 30 minutes.
If you keep the Bounty Bars in the freezer for a long time, then leave them at room temperature for 20 minutes - no longer - before consuming them. Can be served straight from the refrigerator and can be kept for approximately 3 days in the fridge. 
Note:
The dairy-free 85% cocoa chocolate is generally not sugar-free but contains relatively little sugar.
You can often get dark chocolate sweetened with stevia or agave instead of sugar at the organic supermarket.
I use coconut oil which is: 
Organic 
Cold pressed and not deodorized (= Virgin)
And packed in glass.
On youtube you can check how to carefully open a fresh coconut.
You can also get chopped fresh coconut in some grocery stores. That is relatively more expensive because you then need 3 or 4 trays of 100 grams to grate 150 grams of pulp. Sometimes you can also get fresh coconut in pieces at the market.
I am very curious about your Healthy Piece Of Cake Creations. Tag and hashtag #healthypieceofcake on Instagram or FB
Let's Inspire One Another!