Guilt-Free Scrumptious Choc Mousse
[English Below]
Een feestelijk en erg makkelijk te bereiden toetje, mega lekker en niet eens zo slecht voor jouw slanke lijntje.;) Kortom: een triple win situatie dus! 


Bereiding
Prep Time 15 minuten 
Cool Time 1 uur 
Total Time 1 uur & 15 minuten 
Voorbereiding: de blikken kokosmelk tenminste 24 uur van te voren rechtop in de koeling plaatsen 
Benodigdheden 
Elektrische handmixer
Mengkom
Maatlepels
Zeef
Deegspatel 
 Ingrediënten  
350 gr kikkererwten (1 glazen pot)
1/2 citroen 
1/2 tl citroensap 
40 gr *green sweet icing powder (gezeefd) 
100 gr pure chocolade zonder zuivel (72 of 75 % cacao)
45 ml plantaardige "melk" (amandel, haver etc.) 
1,5 tl
puur vanille extract 
Toppings
50 gr pure chocolade zonder zuivel (in splinters gehakt) 
flinke dot geklopte kokosroom (van 2 blikken gekoelde volle kokosmelk )
50 gr pecannoten
30 ml *Syrup Gold 
4 aardbeien
handje rode bessen 
rode korenbloem bloemblaadjes, eetbaar (optioneel) 
4 blaadjes munt 
Zo maak je het
Eerst maak je een chocolade ganache. Breek de chocolade in stukjes. Verwarm kort een sauspan op een middelhoge warmtebron en draai de warmtebron uit. Voeg vervolgens de stukjes chocolade aan de pan toe. Wanneer de chocolade bijna gesmolten is voeg je de melk en vanille toe en roer je totdat een egale saus is ontstaan. Mocht je de warmtebron nog kort aan willen zetten zorg er dan voor dat de saus nooit zal gaan koken en doe dit zo kort mogelijk. Schep de ganache over in een soepbord en laat afkoelen. Begin nu met het maken van het opgeklopte eiwit. 
Ontvet met het sap van een halve citroen de mengkom, de gardes van de mixer en de zeef. 
Hang de zeef in de mengkom en kiep de inhoud van het potje kikkererwten in de zeef en laat de kikkererwten goed uitlekken. Je hebt nu circa 120 ml vocht (aquafaba) in de mengkom opgevangen. Voeg een halve theelepel citroensap toe aan het vocht in de kom. (Bewaar de kikkererwten voor andere toepassingen). 

Maak de zeef schoon en droog en zeef de poedersuiker erdoor
Klop nu met de elektrische handmixer op de hoogste stand of met een keukenmachine het vocht op. Na circa 2 minuten, wanneer het vocht wit begint te worden en al iets begint op te stijven, voeg je voorzichtig een klein deel van de poedersuiker toe tijdens het kloppen. Voeg vervolgens na elke 30 seconden, in circa vier keer, een beetje poedersuiker toe. Blijf kloppen totdat er stijve pieken ontstaan. Dit alles duurt bij elkaar ongeveer 5 tot 8 minuten.
Spatel de chocolade ganache goed door het stijf opgeklopte mengsel. Verdeel de mousse over 4 glaasjes en plaats tenminste een uur in de koeling om te laten opstijven. 
Laat een koekenpan met antiaanbaklaag kort warm worden op een middelhoge warmtebron. Roerbak de pecannoten in de droge pan samen met de Syrup Gold in circa 2 minuten krokant. Laat goed afkoelen en hak daarna in grove stukjes. 
Klop vlak voor serveren de hard geworden crème-laag van twee goed gekoelde blikken kokosmelk op. Voeg naar wens evt een snufje van de poedersuiker toe tijdens het kloppen.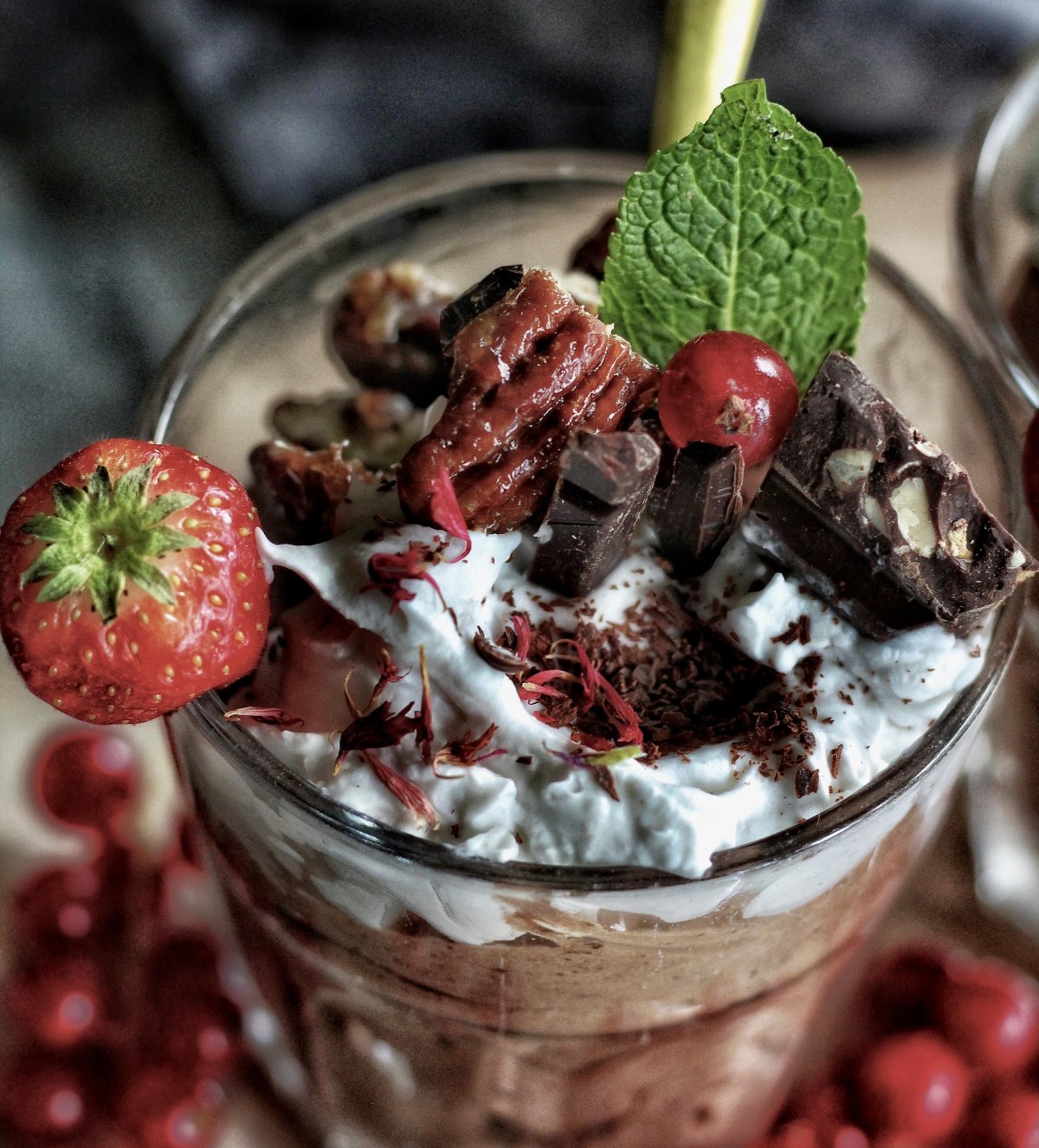 Guilt-Free Scrumptious Choc Mousse
For 4 medium glasses. A festive and very easy to prepare delish dessert with far less calories. A so called triple win situation!


Preperation
Prep Time 15 minuten 
Cool Time 1 uur 
Total Time 1 uur & 15 minuten 
Preparation: place 2 cans of full fat coconut milk upright in the refrigerator for at least 24 hours 
Necessities 
Electric hand mixer
Mixing bowl 
Measuring spoons
Sieve 
Dough spatula 
 Ingredients 
350 gr chickpeas (1 glass jar)
1/2 lemon
1/2 tsp lemon juice
40 gr * green sweet icing powder (sifted)
100 gr dark chocolate without dairy (72 or 75% cocoa)
45 ml plant based  "milk" (almond, oat etc.)
1.5 tsp
 pure vanilla extract
Toppings
50 gr dark chocolate without dairy (chopped into splinters)
big dollop of whipped coconut cream 
50 gr pecans
30 ml * Syrup Gold
4 strawberries
handful of red berries
red cornflower petals, edible (optional)
4 mint leaves
This is how you make it
First you make a chocolate ganache.  Break the chocolate into pieces.  Briefly heat a saucepan over medium heat and turn off the heat.  Then add the pieces of chocolate to the pan.  When the chocolate is almost melted, add the milk and vanilla and stir until a smooth sauce has formed.  If you want to switch on the heat source for a short while, make sure that the sauce will never boil and do this as short as possible.  Transfer the ganache to a soup plate and let it cool. Now start making the second part of your mousse: 
Using the juice of half a lemon, degrease the mixing bowl, the whisks of the mixer and the sieve.  Hang the sieve in the mixing bowl and pour the jar of chickpeas into the sieve and let the chickpeas drain well.  You have now collected approximately 120 ml of liquid (aquafaba) in the mixing bowl.  
Add half a teaspoon of lemon juice to the liquid in the bowl.  (Save the chickpeas for other dishes). 
Clean and dry the sieve and strain the icing sugar. 
Now beat the liquid with the electric hand mixer on the highest setting or with a food processor.  After about 2 minutes, when the liquid starts to turn white and starts to set a little, carefully add a small part of the icing sugar while beating.  Then add a little icing sugar after every 30 seconds, about four times.  Keep beating until stiff peaks form.  This takes about 5 to 8 minutes.  
Fold the chocolate ganache well through the whipped mixture.  Divide the mousse over 4 glasses and place in the refrigerator for at least an hour to let it set.
Leave a frying pan with non-stick coating briefly on a medium heat source.  Stir fry the pecans in the dry pan together with the Syrup Gold for about 2 minutes until crispy.  Allow to cool well and then chop roughly.
Just before serving, whisk the hardened cream layer of two well-cooled cans of coconut milk.  If desired, add a pinch of the icing sugar while beating.