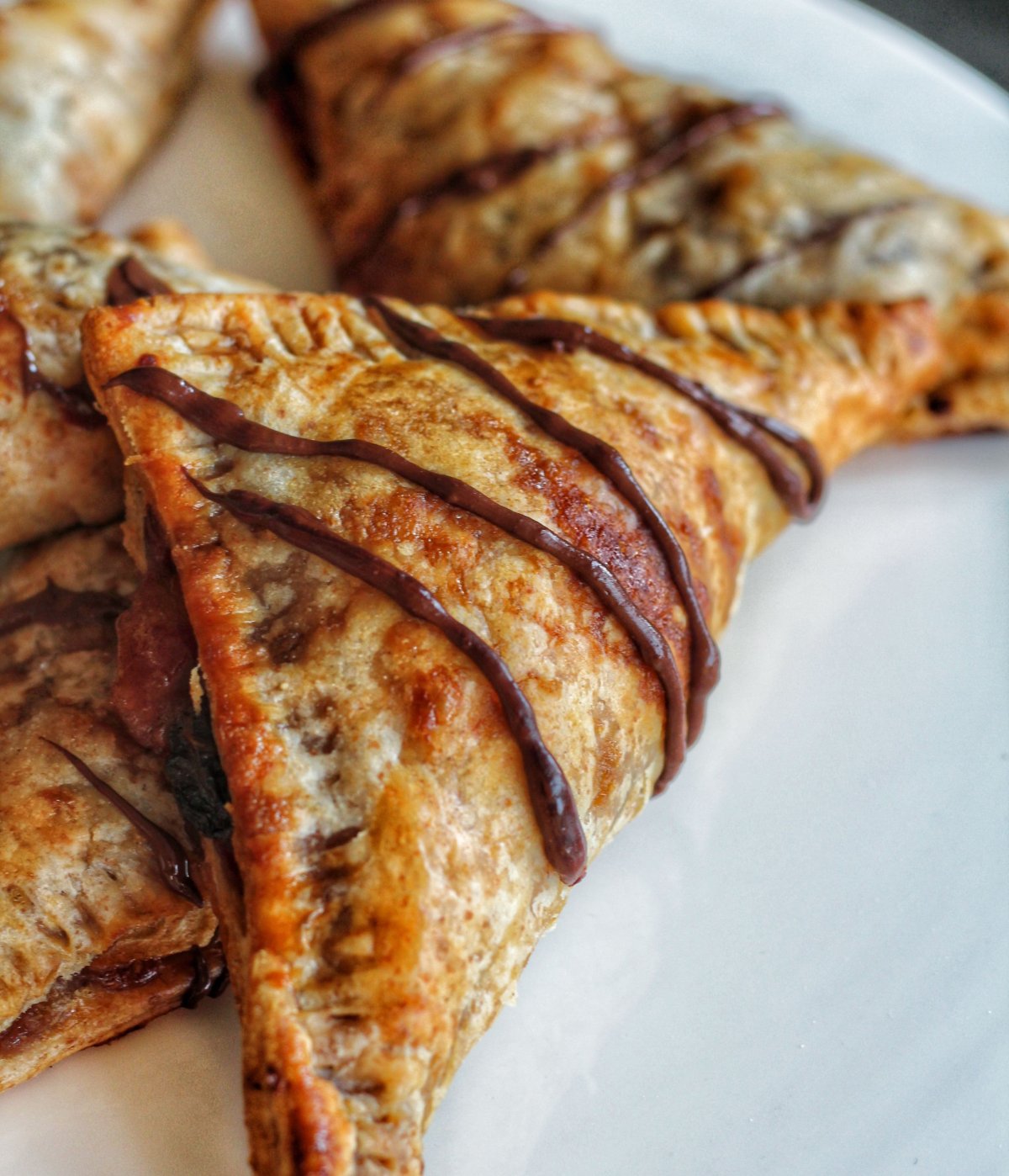 Mango & Apple Turnovers 
[English below]
Wil je graag een heerlijke zelfgebakken treat serveren en heb je weinig tijd? Dan zijn deze mango & appelflappen helemaal jouw ding! Genoeg erover; aan de slag! Want je had per slot van rekening weinig tijd toch? 
Benodigdheden 
Steelpan 
Oven 
Bakplaat 
Bakpapier 
Maatlepels
Ingrediënten 
Vegan volkoren bevroren bladerdeeg (6 per doosje) 
2 eetlepels maizena (gebruik een maatlepel, circa 25 gr)
35 ml koud water
20 ml haver/amandel of sojamelk 
Toppings (optioneel) 
Greensweet Brown (bestrooi de flappen met een heel klein beetje van de Greensweet Brown voordat je ze in de oven schuift) Greensweet Brown - Greensweet Stevia
75 gr pure chocolade vanaf 72% cacao zonder zuivel (au bain Marie gesmolten en met een flacon of theelepel aangebracht nadat de turnovers eenmaal uit de oven zijn afgekoeld)
Vulling voor circa 6 tot 8 turnovers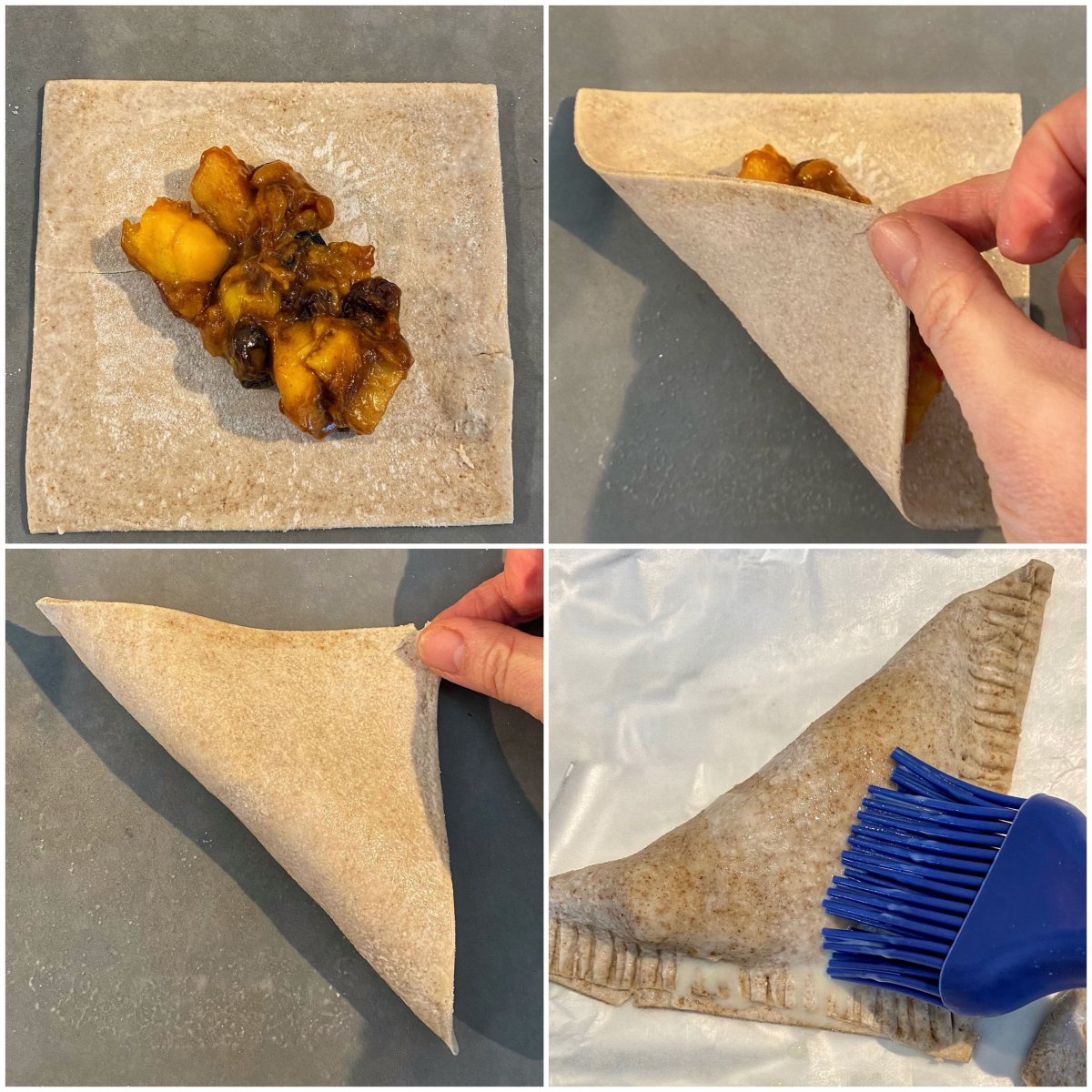 Zo maak je het
De appel schillen en in blokjes snijden. Als je verse mango gebruikt snij dan ook het vruchtvlees van de mango  in blokjes. 


Verwarm de oven voor op 180 graden Celsius. 


Maak nu een papje van het koude water en de maizena. Roer totdat er geen klontjes meer zijn. Zet het even  apart. 


De blokjes appel, mango, de rozijnen, het kaneelpoeder en de greensweet Brown in een kleine (saus)pan samen met de boter en 30 ml water op een middelhoge warmtebron opwarmen. Roer af en toe. Als het mengsel begint te koken roer je het maïzena papje er goed door. Draai de warmtebron lager en laat het mengsel nog circa 8-10 min. pruttelen. Roer tussendoor. 
Haal de velletjes bladerdeeg voorzichtig van elkaar en laat ze apart 5 minuten op kamertemperatuur liggen. 


Schep twee kleine schepjes van het mengsel in het midden van elk velletje bladerdeeg. 


Bevochtig de randen van het velletje met een beetje water en vouw het velletje dicht in een driehoek door de ene punt lichtjes op de andere punt te drukken. Druk rondom aan met een vork. 


Herhaal deze stap met alle velletjes. 
Bestrijk alle driehoekjes met een beetje plantaardige "melk". Bestrooi optioneel heel licht met de bruine stevia suiker. 


Leg de driehoekjes op een met bakpapier beklede bakplaat en plaats deze circa 20 minuten in het midden van de voorwarmde oven. 


Zonder de chocolade streepjes zijn ze heerlijk maar om het extra feestelijk te maken zou je eventueel chocoladestreepjes kunnen toevoegen nadat de driehoekjes iets zijn afgekoeld. 
Recipe Notes
Ik kocht mijn vegan volkoren bladerdeeg bij Ekoplaza. Je kunt tegenwoordig ook steeds vaker vegan bladerdeeg krijgen via de "gewone" supermarkt. Weliswaar vaak niet biologisch. 
Je kunt verse mango gebruiken maar om de kosten te drukken en ook omdat het gewoon heel makkelijk is kun je via het vriesvak van de super ook een doosje mango blokjes van 250 gr gebruiken. Puur en zonder andere toevoegingen.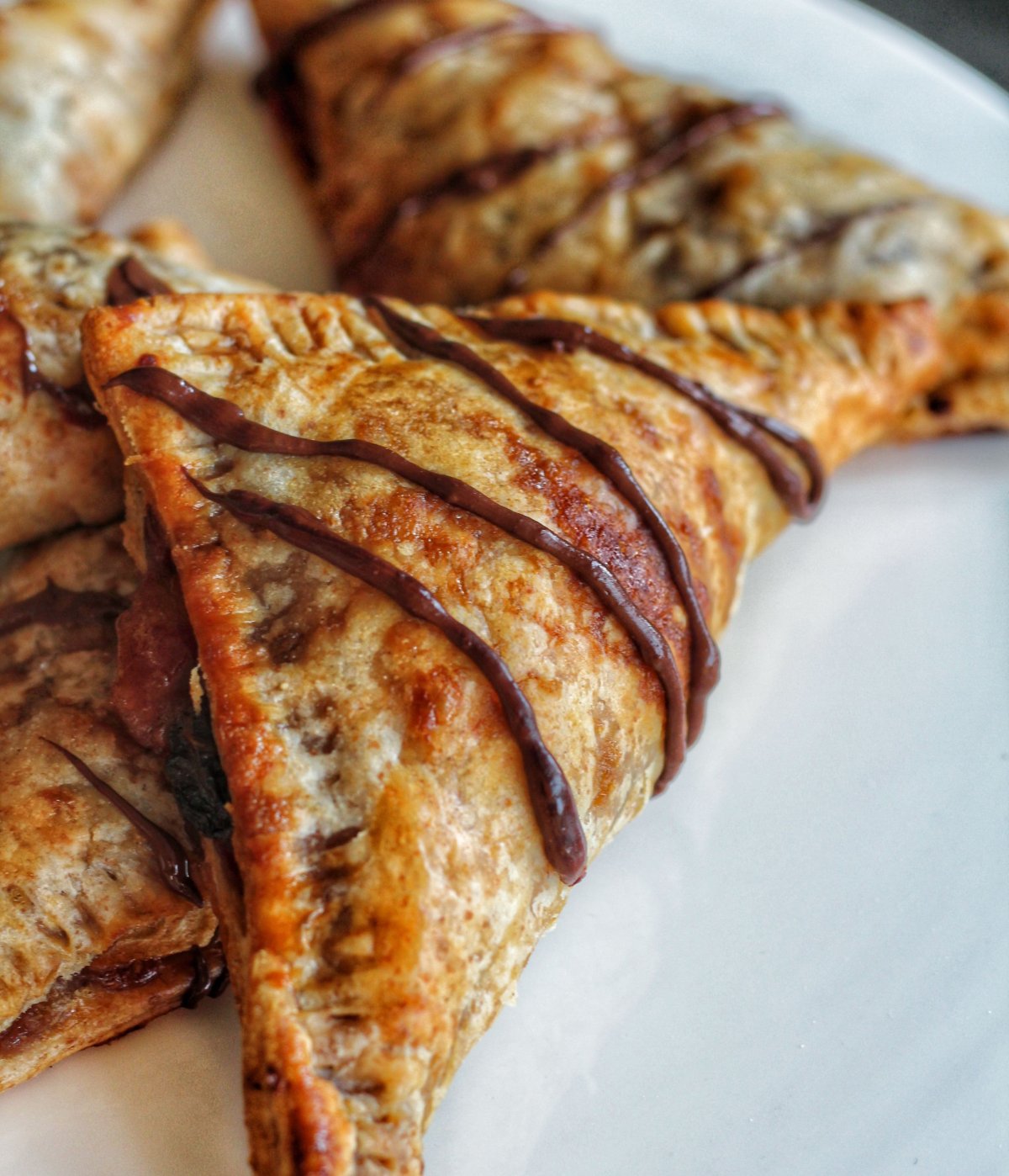 Mango & Apple Turnovers 
Would you like to serve a delish homemade treat and do you have little time?  Then these mango & apple turnovers are just your "thang"! Enough about it;  let's start to prep! After all, you didn't have much time, right? 
* Prep Time 20-25 minutes
Necessities
Saucepan
Oven
Baking tray
Baking paper
Measuring spoons
Ingredients
Vegan wholegrain frozen puff pastry (6 per box)
2 tablespoons cornstarch (use a measuring spoon, approx. 25 g)
35 ml of cold water
20 ml oats / almond or soy milk
Toppings (optional)
Greensweet Brown (sprinkle the turnovers with just a little of the Greensweet Brown before putting them in the oven) 
 75 gr dark chocolate from 72% cocoa, no dairy (melted au bain Marie) apply after the turnovers have cooled down once removed from the oven. 
Filling for approx 6 to 8 turnovers
250 gram cubes of mango (thawed, via freezer compartment super)
100 gr apple peeled and diced (= approx. 2 small apples or 1 large)
25 g plant based  margarine
30 ml of water
1,5 tsp cinnamon powder
60 gr Sweetgreen Brown Greensweet Brown - Greensweet Stevia
40 gr raisins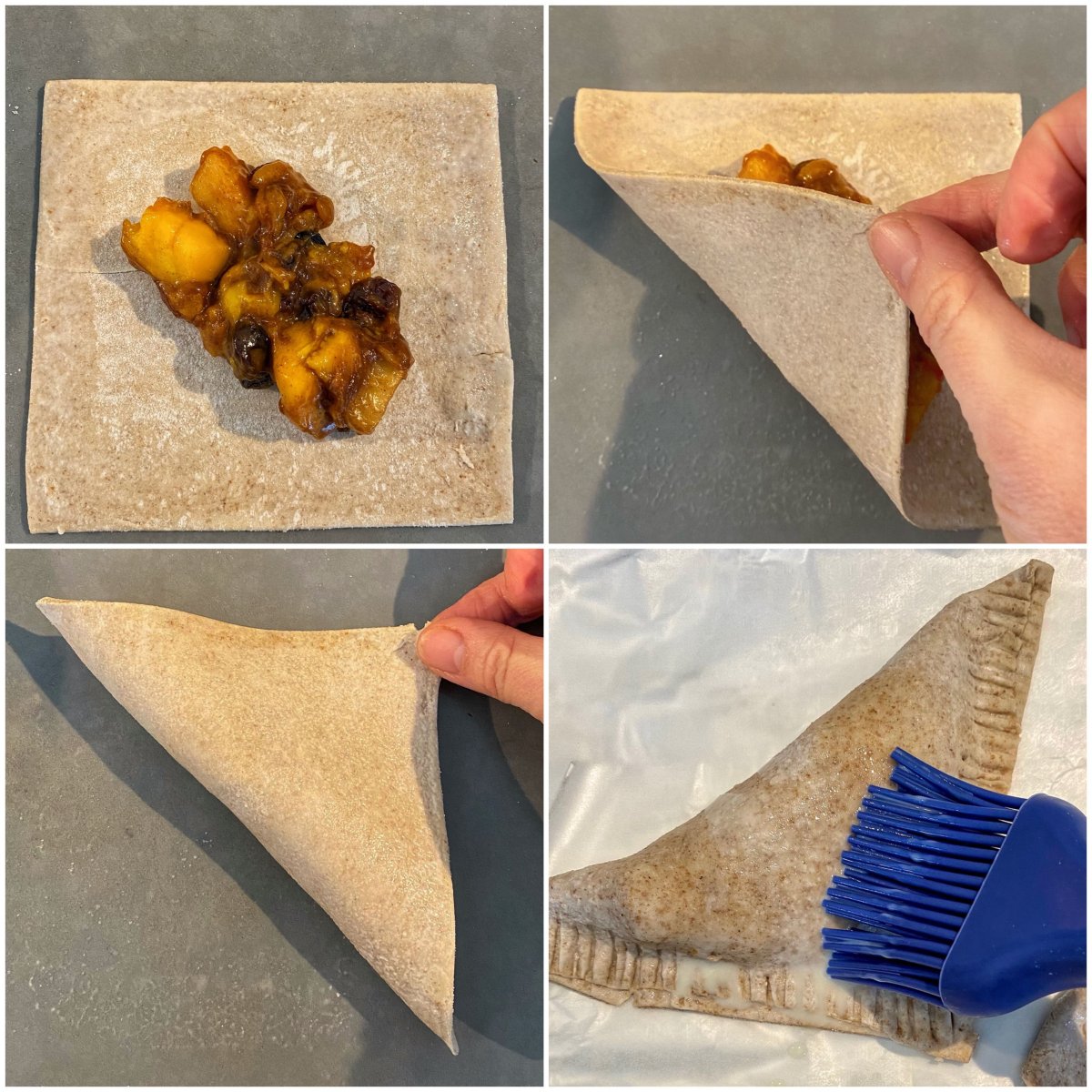 How to prep
Peel and dice the apple(s). If you use fresh mango then also cut the pulp of the mango in cubes.


Preheat the oven to 180 degrees Celsius. 


Now make a paste of the cold water and the cornstarch.  Stir until there are no more lumps.  Set it aside for a while.


Heat the apple cubes, mango, raisins, cinnamon powder and greensweet Brown in a small (sauce) pan together with the butter and 30 ml water on medium heat.  Stir every now and then.  When the mixture starts to boil, stir in the cornstarch paste well. Turn down the heat and let the mixture simmer for about 8-10 minutes. Stir in between.
Carefully separate the sheets of puff pastry and let them sit separately at room temperature for 5 minutes.


Spoon two small scoops of the mixture into the center of each sheet of puff pastry.


Moisten the edges of the sheet with a little water and fold the sheet closed in a triangle by lightly pressing one point on the other point.  Press all around with a fork.
Repeat this step with all the sheets.  


Brush each triangle with some plant based "milk".  Optionally sprinkle very lightly with the brown stevia sugar.


Place the triangles on a baking tray lined with parchment paper and place in the center of the preheated oven for about 20 minutes.


 Without the chocolate stripes they are delicious, but to make it extra festive you could add chocolate stripes after the triangles have cooled slightly.


Recipe Notes
I bought my vegan whole wheat puff pastry at Ekoplaza.  Nowadays you can also get more and more vegan puff pastry from the "normal" supermarket.  Admittedly often not organic.
You can use fresh mango but to reduce costs and because it's just very easy you can also use a box of mango cubes of 250 gr via the freezer compartment of the super.  Pure and without other additives.