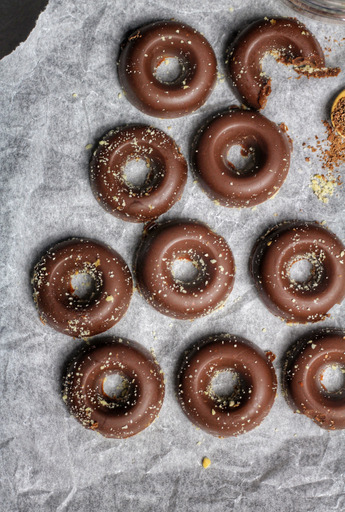 Mini Choc & PB Fudge Donuts
Ingrediënten 
Garnering
75 gram Rauwe noten mix (walnoot, pecan, cashew, amandel, hazelnoten)
Vulling
100 gram pure Amandelboter
115 gram pure Pindakaas
30 gram kokosolie (eerst wegen dan smelten)
300 gram Vegan pure Chocolade 70% cacao (Tony Chocolonely)
Instructies
Benodigdheden
Donut bakvorm(en) (voor mini of normale maat) 
Voor circa 27 mini fudge donuts of 12 -14 standaard maat donuts.
Instructies
Mix de notenmix fijn in de blender. Zet het notenmengsel even weg en spoel de blender schoon.
De pindakaas en de amandelpasta samen met de gesmolten kokosolie samen in de blender glad mixen.
De chocolade in stukjes breken en laten smelten double boiler/ Au bain Marie. Giet het pinda & amandel mengsel uit de blender bij de gesmolten chocolade en roer goed tot een gladde saus. Giet de saus vervolgens in de donut bakvorm(en) en strooi een beetje van de fijn gemalen noten er op en druk er zachtjes in.
Plaats de bakvorm(en) in de vriezer totdat de donuts goed hard geworden zijn (circa 2 uur)en pop uit de bakvorm. Bewaar de donuts in een afgesloten bakje in de koelkast. Vanuit de vriezer eerst 25 min op kamertemperatuur laten staan voor serveren, vanuit de koelkast meteen eetbaar.
Notities 
Bij gebruik van 1 bakvorm, vul eerst 1 vorm en vul de bakvorm daarna nog een keer met de overige saus in de pan. De saus even kort opwarmen. Je kunt de amandelpasta ook vervangen voor pindakaas als je houdt van een extra intense pindakaas smaak. In de koeling 7 -10 dagen houdbaar. In de vriezer circa 2 maanden. Ik ben heel benieuwd naar jouw Healthy Piece Of Cake Creaties. Tag en hashtag #healthypieceofcake op Instagram of FB. Let's Inspire One Another!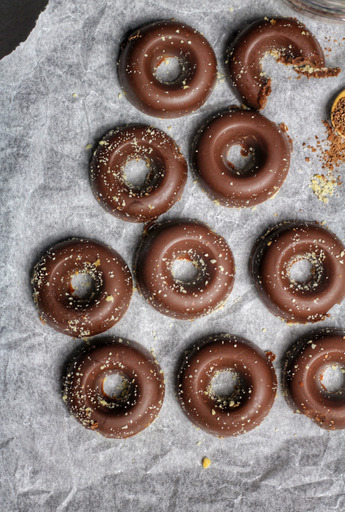 Mini Choc & PB Fudge Donuts
Ingredients
Garnish
Filling
100 grams Almond butter (walnut, pecan, cashew, almond, hazelnuts)
 115 grams Peanut butter
 30 grams coconut oil (first weigh than melt)
 300 grams Vegan pure Chocolate 70% cacao (Tony Chocolonely)
Instructions
Necessities
Donut baking mold(s) (mini or normal size)
For about 27 mini fudge donuts or 12 -14 normal sized fudge donuts.
Instructions
Mix raw nuts in blender. Set a side.
Rinse the blender
Now mix together in blender: Almond butter, peanut butter and melted coconut oil.
Break chocolate into pieces and melt double boiler / Au bain Marie. Pour peanut/almond mixture from the blender into melted chocolate and stir well. Pour & divide chocolate peanut almond sauce in the donut baking tin (s) and sprinkle a bit of the finely ground nuts and press gently.
Place the baking mold (s) in the freezer ( donuts until set for about 2 hours) Pop donuts out of the mold and store in a sealed container in the fridge. Best served from fridge.
Want to eat it right away? From the freezer keep 25 minutes at room temperature before serving.
Notes
Note: When using 1 baking tin, first fill 1 tin and then use the baking tin again with the remaining sauce in the pan. Heat up the sauce briefly. You can also replace the almond paste for peanut butter if you like an extra intense peanut butter flavor. Shelf life: In fridge 7 -10 days. In freezer about 2 months. I'd love to see your Healthy Piece Of Cake Creations on Insta. Tag & Hashtag #healthypieceofcake Let's Inspire One Another!