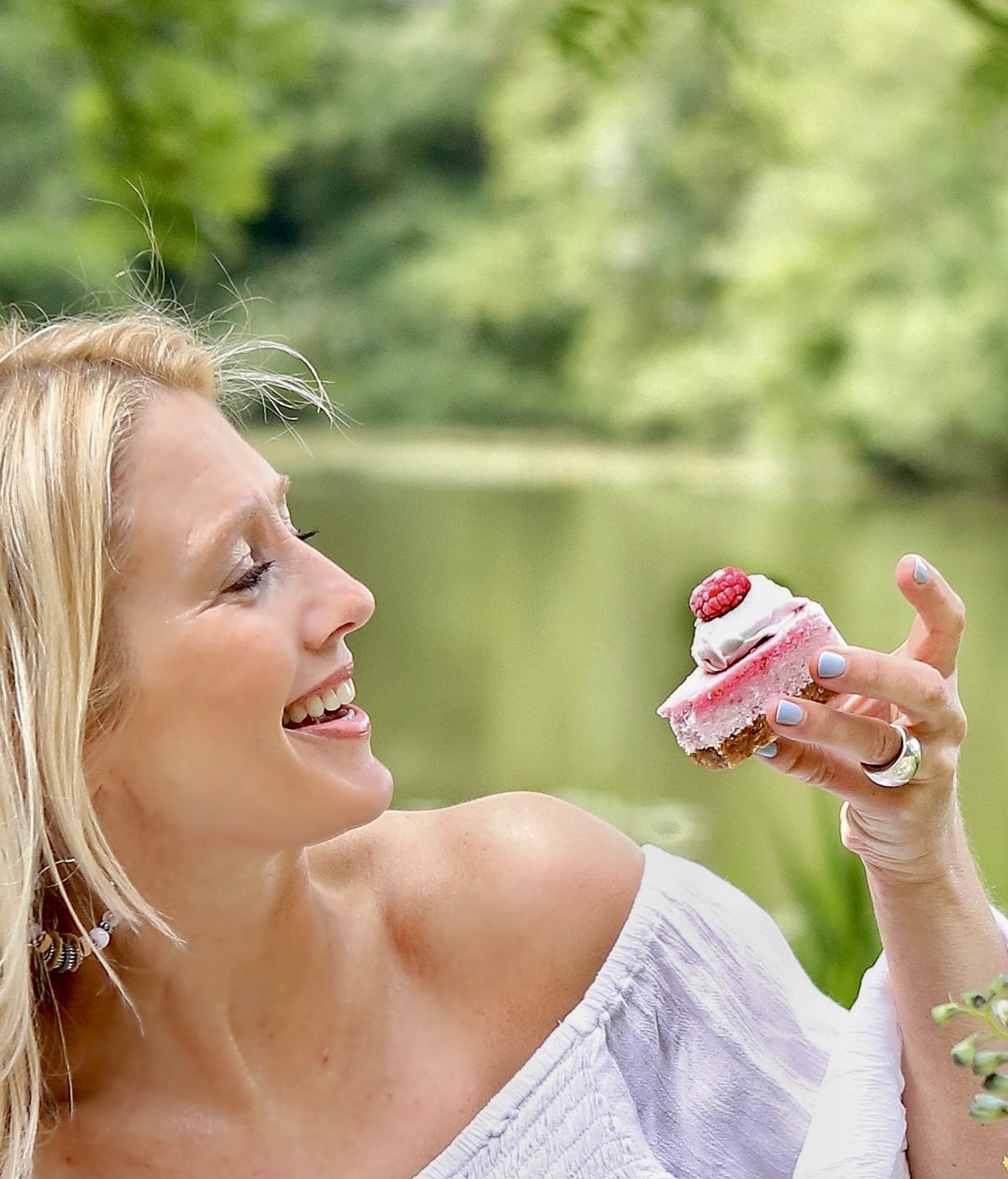 Recept: Pink Coconut Butter Cake 
[English below]
Dit recept ontwikkelde ik alweer meer dan 7 jaar geleden en kwam ook in mijn eerste luxe Nederlandstalige koffietafelboek: "It's a Healthy Piece Of Cake".
Het 235 pagina's tellende boek is nu trouwens voor een heel fijn prijsje hieronder te bestellen, (totdat de voorraad op is;). Er komt binnenkort, van een deel uit dit boek, een Engelstalig e-book uit. Anyways, we willen meer ruimte maken, ook voor mijn tweede boek met eenvoudige hartige & zoete recepten.
Corinne Weijschedé - It's a Healthy Piece of Cake
Het recept
De Pink Coconut butter cake is een luxer taartje dan dat je aan "haar" looks kunt afzien. Het heeft een boterachtige heerlijke volle zoete bite met een klein zuurtje. Deze cake is semi-raw omdat de bodem gebakken is; dat maakt het nóg lekkerder!
Benodigdheden 
Springvorm ø 20 cm
Oven
Plek in de vriezer
High Speed Blender
Keukenweegschaal
Bakpapier

Taartbodem
Beetje olie om mee in te vetten
30 gr speltvlokken (of glutenvrije havermout)
30 gr gedroogde witte moerbeien
40 gr pijnboompitten
60 gr kokosolie (eerst wegen dan smelten)
30 ml donkere agave siroop
60 gr amandelmeel
Vulling
150 gr gedroogde kokosrasp (puur)
100 gr kokosolie (eerst wegen dan smelten)
5-8 verse of ontdooide frambozen
30 ml donkere agave siroop
1/3 limoen (sap)

Frosting
75 gr aardbeien (vers of ontdooid)
5-8 frambozen (vers of ontdooid)
150 gr kokosolie (eerst wegen dan smelten)
30 ml donkere agave siroop

Toppings (optioneel)
Opgeklopte kokosroom op smaak gebracht met een snufje puur vanillepoeder
Frambozen
Gevriesdroogd puur cranberry poeder
Zo maak je het recept
1. Verwarm de oven voor op 150 graden Celsius (hete lucht)


2. Vet de bodem van de springvorm licht in en bekleed de bodem met bakpapier


3. Mix de speltvlokken, moerbeien, pijnboompitten in de blender. Zet de blender uit en voeg nu de gesmolten kokosolie, agavesiroop en het amandelmeel toe en mix tot een redelijk fijne massa. Verdeel dit mengsel evenredig over de taartbodem en druk goed aan met de bolle kant van een lepel. Plaats de bakvorm nu circa 22 minuten, of totdat goudbruin, in de voorverwarmde oven. Laat de bodem goed afkoelen.


4. Spoel de blender schoon en maak de vulling.
5. Mix in de blender de kokosrasp, gesmolten kokosolie, frambozen en de agave siroop. Zet de blender uit. Knijp het partje limoen goed uit boven het mengsel. Zorg dat er geen pitten meekomen of gebruik een klein zeefje. Zet de blender weer aan. Tussendoor de blender een paar keer uitzetten en goed roeren en de zijkanten van de blender schoon schrapen. Zorg dat het een redelijke gladde massa wordt. Plaats de vulling op de reeds afgekoelde bodem. Druk goed aan met de bolle kant van een lepel. Laat de bodem met de vulling afgedekt op kamertemperatuur staan.


6. Mix voor de frosting alle schoongemaakte ingrediënten samen in de blender. Voor de kleur heb je echt wat frambozen nodig (8 kleine stuks of 5 van gemiddeld formaat).


7. Giet de frosting op de vulling en plaats afgedekt in de vriezer.


8. Circa 4,5-5 uur in de vriezer.
Recipe note
Snij een diepbevroren taart nooit meteen aan ivm het breken van de lagen. Wacht 35-40 min (niet langer!) en verdeel de taart dan in puntjes of blokjes. Vries evt een deel van de gesneden punten of blokjes meteen weer in; zo heb je altijd een lekkere treat bij de hand.


Laat vervolgens een aangesneden punt nog 15 min op kamertemperatuur komen voordat je deze gaat serveren.


In de koelkast is deze cake 3 dagen houdbaar en vanuit de koelkast kun je porties wel meteen serveren.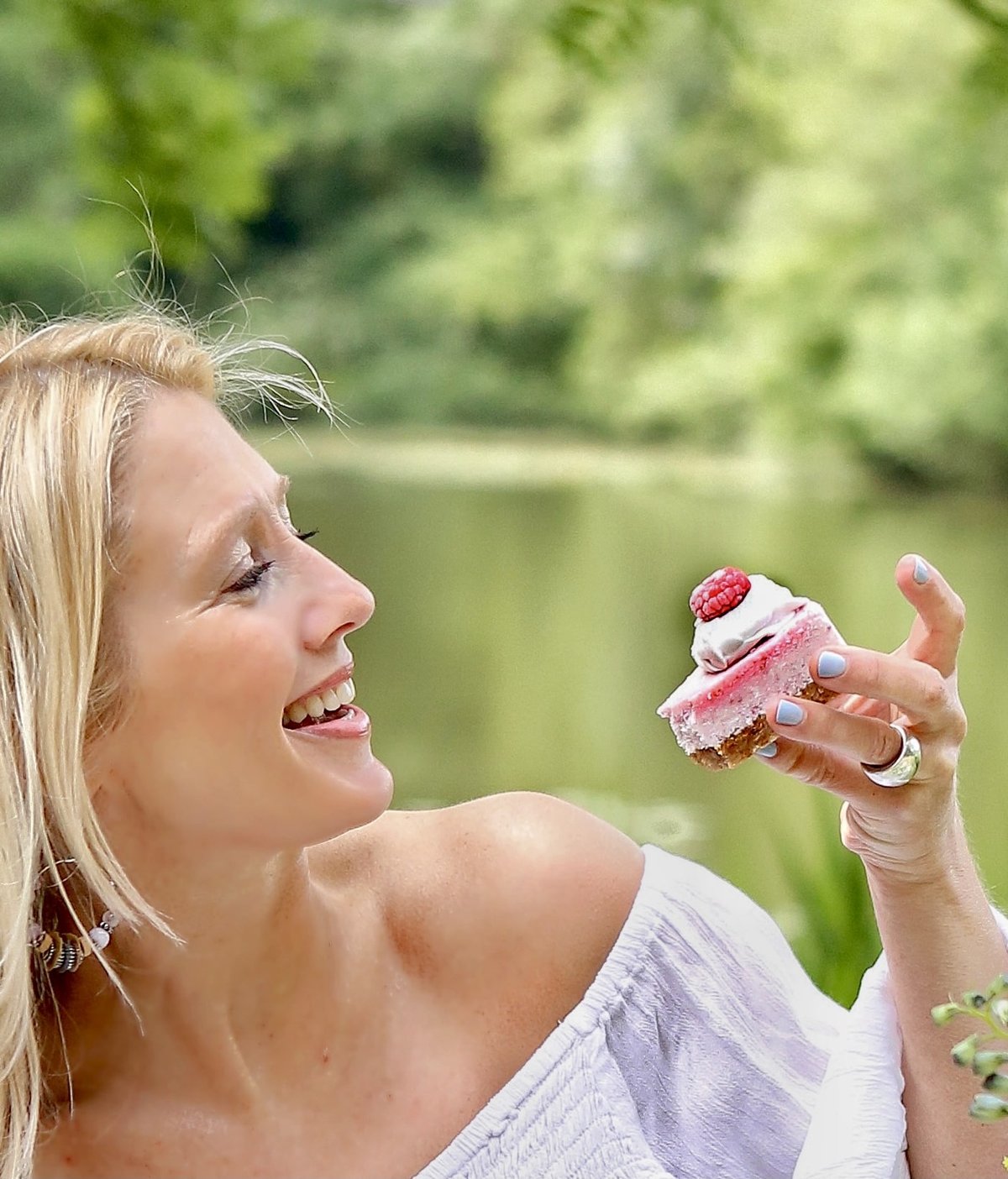 Recipe: Pink Coconut Butter Cake 
I developed this recipe more than 7 years ago and it also appeared in my first luxury Dutch coffee table book: "It's a Healthy Piece Of Cake". The 235-page book can now be ordered below for a very nice price (until the stock is finished;). Part of this book will be published in an English e-book soon.
Anyways, we want to make more room, also for my second book with simple savory & sweet recipes.
Corinne Weijschedé - It's a Healthy Piece of Cake
The recipe
The Pink Coconut Butter Cake is a more luxurious cake than you would think. It has a buttery delicious full sweet bite with a little bit of acidity. This cake is semi-raw because the crust is baked; that makes it even tastier!
Necessities
Springform tin ø 20 cm
Oven
Place in the freezer
High Speed Blender
Kitchen scales
Baking paper

Base
Little oil for greasing
30 g spelt flakes (or gluten-free oatmeal)
30 g dried white mulberries
40 gr pine nuts
60 g coconut oil (weigh first, then melt)
30 ml dark agave syrup
60 gr almond flour
Filling
150 gr dried coconut grater
100 g coconut oil (weigh first, then melt)
5 - 8 fresh or thawed raspberries
30 ml dark agave syrup
1/3 lime (juice)
Frosting
75 gr strawberries (fresh or thawed)
5-8 raspberries (fresh or thawed)
150 g coconut oil (weigh first, then melt)
30 ml dark agave syrup
Toppings (optional)
Whipped coconut cream flavored with a pinch of pure vanilla powder
Raspberries
Pure freeze-dried cranberry powder
How to prep
1. Preheat the oven to 150 degrees Celsius (hot air)


2. Lightly grease the bottom of the spring form and line the bottom with baking paper.


3. Mix the spelt flakes, mulberries, pine nuts in the blender. Turn off the blender and now add the melted coconut oil, agave syrup and almond flour and blend until fairly fine. Divide this mixture evenly over the base and press well with the convex side of a spoon. Place the baking pan for about 22 minutes, or until golden brown, in the preheated oven. Let the base cool down well.


4. Rinse the blender and make the filling.
5. Mix the coconut grater, melted coconut oil, raspberries and the agave syrup. Turn off the blender. Squeeze the lime wedge well over the mixture. Make sure there are no seeds or use a small sieve. Switch the blender back on.

In between


6. turn the blender off a few times and stir well and scrape the sides of the blender clean. Make sure it becomes a moderately smooth mass. Place the filling on the already cooled crust. Press down well with the convex side of a spoon. Cover the bottom with the filling at room temperature.


7. For the frosting, mix all the cleaned ingredients together in the blender. For the color you really need some raspberries (8 small pieces or 5 medium sized). Pour frosting onto the filling and place covered approximately 4.5-5 hours in the freezer.
Recipe note
Never cut a frozen cake immediately because the layers will break. Wait 35-40 minutes (no longer!)and then divide the cake into wedges or cubes. If necessary, re-freeze some of the cut wedges or cubes immediately; so you always have a tasty treat at hand.


Let a cut wedge come to room temperature for another 15 minutes before serving.


This cake can be kept for 3 days in the refrigerator and portions can be served immediately from the refrigerator.