Rustic Red Fruit Galette
Ingrediënten
Deeg
100 gram Speltbloem 
50 gram hazelnootmeel (of fijngemalen rauwe hazelnoten)
1 snufje grijs zout 10 gram Stevia Sweet Powder @Dailyhealthshop.nl
80 gram Plantaardige boter In stukjes, koud en gekoeld (mag licht gezouten, ik gebruikte Alpro)
3 eetlepels IJskoud water (als het deeg nog te droog is kun je evt nog een eetlepel ijskoud water toevoegen)
Vulling 
2 stuks Redlove appels
5 gram cashewnoten (rauw en geweekt)
2/4 theelepel Puur vanillepoeder 
30-45 ml Dadelsiroop
1 vleugje Limoensap (optioneel)
70 gram kokoscréme (uit blik, eventueel aangevuld met wat kokosmelk)
20-25 gram kokosolie (eerst wegen dan smelten)
10 gram kokosbloesemsuiker 
5 gram Kaneelpoeder 
Glaze 
Glaze 10 gram kokosolie (eerst wegen dan smelten)
 1/2 eetlepel Dadelsiroop
1/2 theelepel Kaneel 
Garnering
Garnering 1 handvol verse frambozen
 1 paar muntblaadjes
Instructies
Benodigdheden
 Elektrische handmixer
 Krachtige blender
 Beslagkom
 Hete lucht oven
 Bakpapier
 Vershoudfolie
Voorbereiding 
De rauwe cashewnoten circa 3-4 uur laten wellen in water.
Methode 
Maak het deeg door de bloem, het hazelnootmeel en de stevia poedersuiker in een mengkom te mixen met de handmixer. Voeg de boter in etappes toe en mix verder op lage snelheid tot het deeg kruimelig is. Voeg beetje bij beetje het koude water toe totdat je een -losse- deegbal hebt. Verpak de deegbal in vershoudfolie en laat circa 45-60 min in de koelkast rusten. 
Maak ondertussen de vulling. Giet de cashewnoten goed af en mix met alle andere ingrediënten (behalve met het kaneelpoeder en de kokossuiker!) voor de vulling tot een glad mengsel in de blender.
Schil en halveer de appels. Verwijder het klokhuis en snij de halve delen in smalle plakjes, hou de plakjes dicht tegen elkaar. 
Haal de deegbal na de aangegeven tijd uit de koeling leg het op een stuk bakpapier, bekleed het deeg met een stuk vershoudfolie en rol het uit met de deegroller tot een ronde plak met een doorsnede van circa 20-24 cm ø en met een dikte van circa een halve centimeter. 
Verwarm de oven voor op 200 graden Celsius/hete lucht 
Smeer het mengsel uit de blender over de ronde deegplak en blijf circa 2-3 cm van de rand. 
Vouw nu de rand van de deegplak gedeeltelijk over de appels. Het deeg heeft een losse structuur dus voorzichtig vouwen. Mocht het deeg scheuren dan zachtjes aandrukken en dicht kneden. 
Maak een papje met de gesmolten kokosolie en de dadelsiroop en het kaneelpoeder en smeer de randen er licht mee in. 
Bak circa 35 minuten in de voorverwarmde oven op 200 graden Celsius totdat de appels zacht zijn en de gallette goudbruin is gekleurd. Check wel goed tussendoor... 
Even een beetje laten afkoelen en lauwwarm serveren. Gebruik een spatel omdat de bodem anders snel kan breken. Garneer met wat frambozen en een paar kleine muntblaadjes. Goed afgedekt is de galette 3 dagen houdbaar in de koeling, Deze galette is lauwwarm het allerlekkerst! Serveer eens samen met wat opgeklopte kokoscrème of een bolletje puur bananenijs.
Notities
De Redlove appel is gekweekt op conventionele wijze: puur natuur, geen manipulatie. Het kweekproces is gebaseerd op appels, die van nature rood vruchtvlees hebben. Geen biologisch appeltje, dat dan weer niet. Natuurlijk kun je een appelsoort naar eigen keuze gebruiken. Ik ben heel benieuwd naar jouw Healthy Piece Of Cake Creaties. Tag en hashtag #healthypieceofcake op Instagram of FB. Let's Inspire One Another!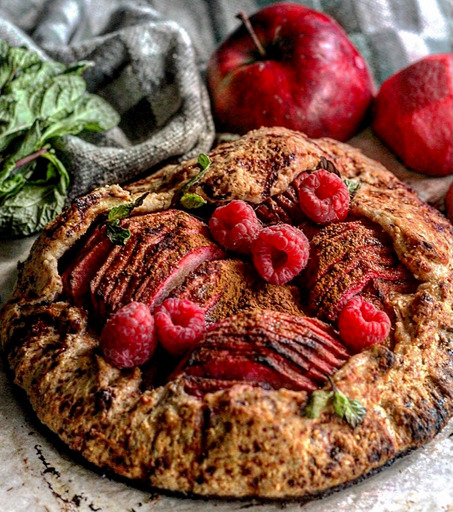 Rustic Red Fruit Galette
Ingredients
 100 grams spelt flour 
 50 grams Hazelnut (or finely ground raw hazelnuts)
 flour 1 pinch gray salt
 10 grams Stevia Sweet Powder @Dailyhealthshop.nl
 80 grams Plant based butter In pieces, cold and chilled (may be lightly salted, I used Alpro)
 3 tablespoons Ice cold water (if the dough is still too dry you can add another tablespoon of ice cold water
Filling
2 pieces Redlove apples
95 grams Cashew nuts (raw and soaked)
2/4 teaspoon Pure vanilla powder 
30-35 ml Date syrup
Touch of lime juice (optional)
70 grams coconut cream (canned)
20-25 grams coconut oil (first weigh than melt)
10 grams Coconut blossom sugar
5 grams Cinnamon powder  
Glaze 
10 grams coconut oil (first weigh than melt)
1/2 tablespoon Date syrup
1/2 tablespoon Cinnamon 
Garnish
Handful of fresh raspberries 
Some mint leaves 
Instructions
Necessities
Electric hand mixer
High Speed blender
Hot air oven. 
Baking paper 
Cling film
Preparation
Let the raw cashew nuts soak in water for about 3-4 hours.
Method 
Make the dough by mixing the flour, hazelnut flour and stevia powdered sugar in a mixing bowl with the electric handmixer. Add the butter and mix at low speed until the dough is crumbly. Slowly add the cold water until you have a loose dough ball. Wrap the dough ball in cling film and let it rest in the refrigerator for about 45-60 min. 
Meanwhile, make the filling. Drain the cashew nuts well and mix with all the other ingredients (except with the cinnamon powder and the coconut sugar!) for the filling to a smooth mixture in the blender. 
Peel and halve the apples. Remove the core and cut the half parts into small slices, keeping the slices close together. 
Remove the dough ball from the fridge place it on a piece of parchment paper, cover the dough with a piece of cling film and roll it out with the rolling pin into a round slice with a diameter of approximately 20-24 cm and with a thickness of about half a centimeter. 
Preheat the oven to 200 degrees Celsius / hot air 
Spread the mixture from the blender over the round dough slice and stay about 2-3 cm from the edge. 
Press the 4 pieces of half sliced apples into the mixture and sprinkle with coconut blossom sugar and cinnamon powder.
Now fold the edge of the dough slice partly over the apples. The dough has a loose structure so fold gently. Should the dough tear, gently press and knead tightly. 
Make a paste with the melted coconut oil and the date syrup and the cinnamon powder and lightly coat the edges. 
Bake for about 35 minutes in the preheated oven at 200 degrees Celsius until the apples are soft and the gallette is colored golden brown. Check well in between. 
Let it cool down a bit and serve lukewarm. Use a spatula because otherwise the bottom can break quickly. Garnish with some raspberries and a few small mint leaves. 
Well covered the galette can be kept for 3 days in the refrigerator. Tip: This galette is lukewarm the best! Serve with some whipped coconut cream or some pure banana ice cream.
Notes
The Redlove apple is grown in a conventional manner: pure nature, no manipulation. The breeding process is based on apples, which naturally have red flesh. It isn't an organic apple perhaps. But of course you can use any other apple type in this recipe. I'd love to see your Healthy Piece Of Cake Creations on Insta. Tag & Hashtag #healthypieceofcake Let's Inspire One Another!