Vegan Chocolate Mocha Ice Cream (gluten/lactose-free)
ingrediënten
30 gram havermout fijngemalen en glutenvrij
14 stuks medjoul dadels 45 minuten geweekt in koffie
65 gram kokosolie eerst wegen dan smelten
120 ml volvette kokosmelk klein blikje
1 blik zwarte bonen op water, blik 400 gr uitlekgewicht 265 gr
1,25 tsp puur vanille extract
17-20 gram cacaopoeder raw
snufje zout
150 gram stukjes *chocolade chips /druppels; zonder zuivel en liefst zo puur mogelijk na mixen toevoegen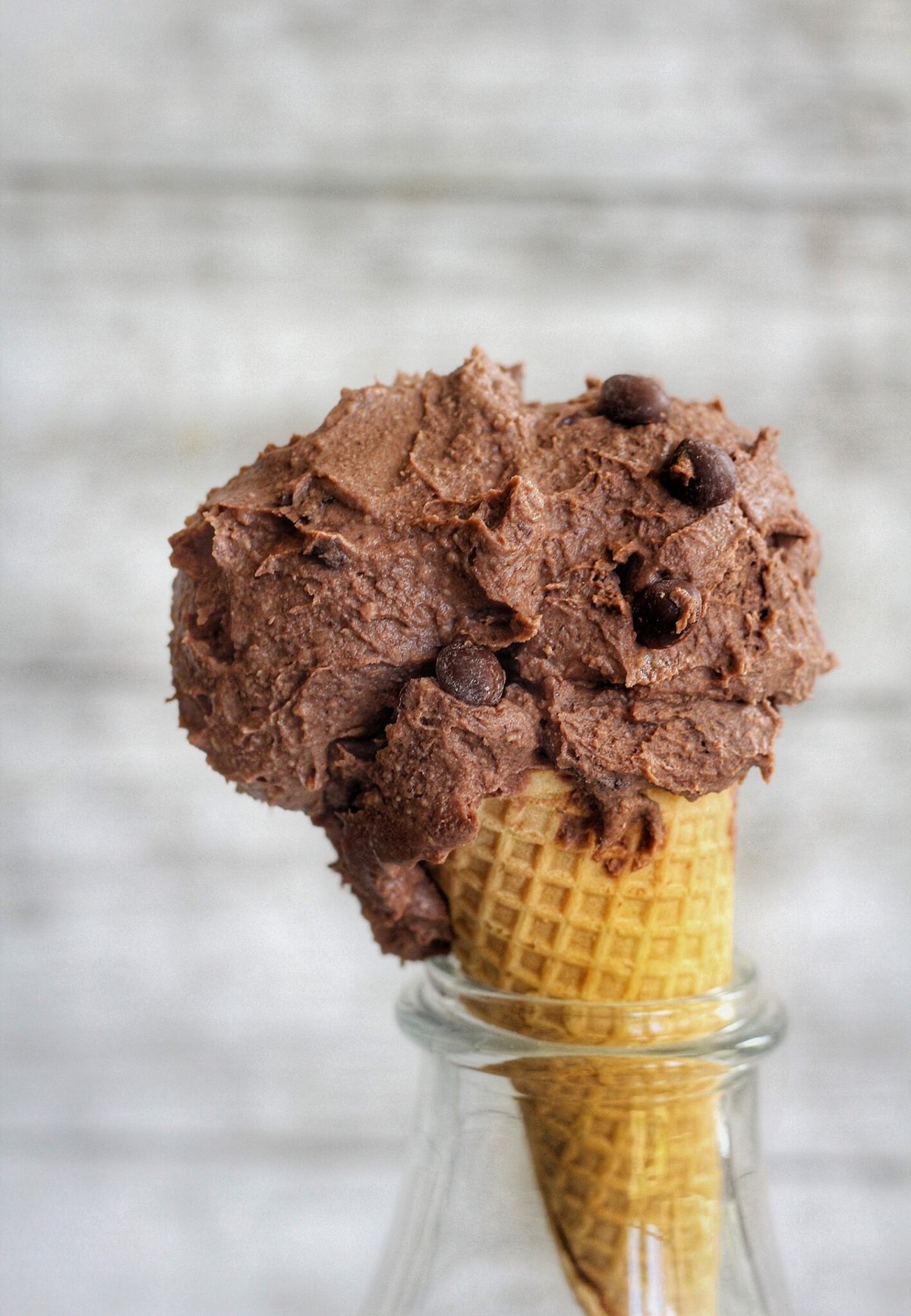 Instructies
Benodigdheden
Rechthoekige bakvorm 24 cm, krachtige blender, maatlepels
Instructies
Medjoul dadels ontpitten en 45 minuten tot max. 1 uur weken in 240 ml vers gezette koffie. Druk de dadels een beetje naar beneden zodat alle dadels goed onderstaan.
Giet de dadels goed af en giet de bonen goed af door een fijn vergiet.
Mix eerst de havermout fijn en voeg daarna alle andere ingrediënten, behalve de chocolade chips, toe aan de blender.
Mix alles, net zolang tot er een glad mengsel ontstaat. Roer na het mixen de chocolade chips erdoor.
Bekleed de bakvorm met bakpapier en verdeel het mengsel gelijkmatig over de bakvorm en plaats de bakvorm circa 4,5 -5 uur in de vriezer op -17 graden Celsius. Daarna kun je perfecte bolletjes scheppen met een warm gemaakte ijslepel. Wil je het ijs langer bewaren in de vriezer? Schep het dan over in een luchtdicht diepvriesbakje. Breng dan het diepgevroren mengsel eerst 45 minuten - max. 55 min (afhankelijk van de kamertemperatuur) op kamertemperatuur, met de deksel eraf, voordat je de bolletjes schept.
Ingredients
30 gr oatmeal finely ground and gluten-free
14 pieces medjoul dates 45 minutes soaked in coffee
65 grams coconut oil weigh first, then melt
120 ml full-fat coconut milk small can
1 can black beans in water, 400 gr can drained weight 265 gr
1,25 tsp pure vanilla extract
17-20 grams cocoa powder raw
pinch of salt
150 grams chocolate chips / drops; without dairy and preferably as pure as possible add after mixing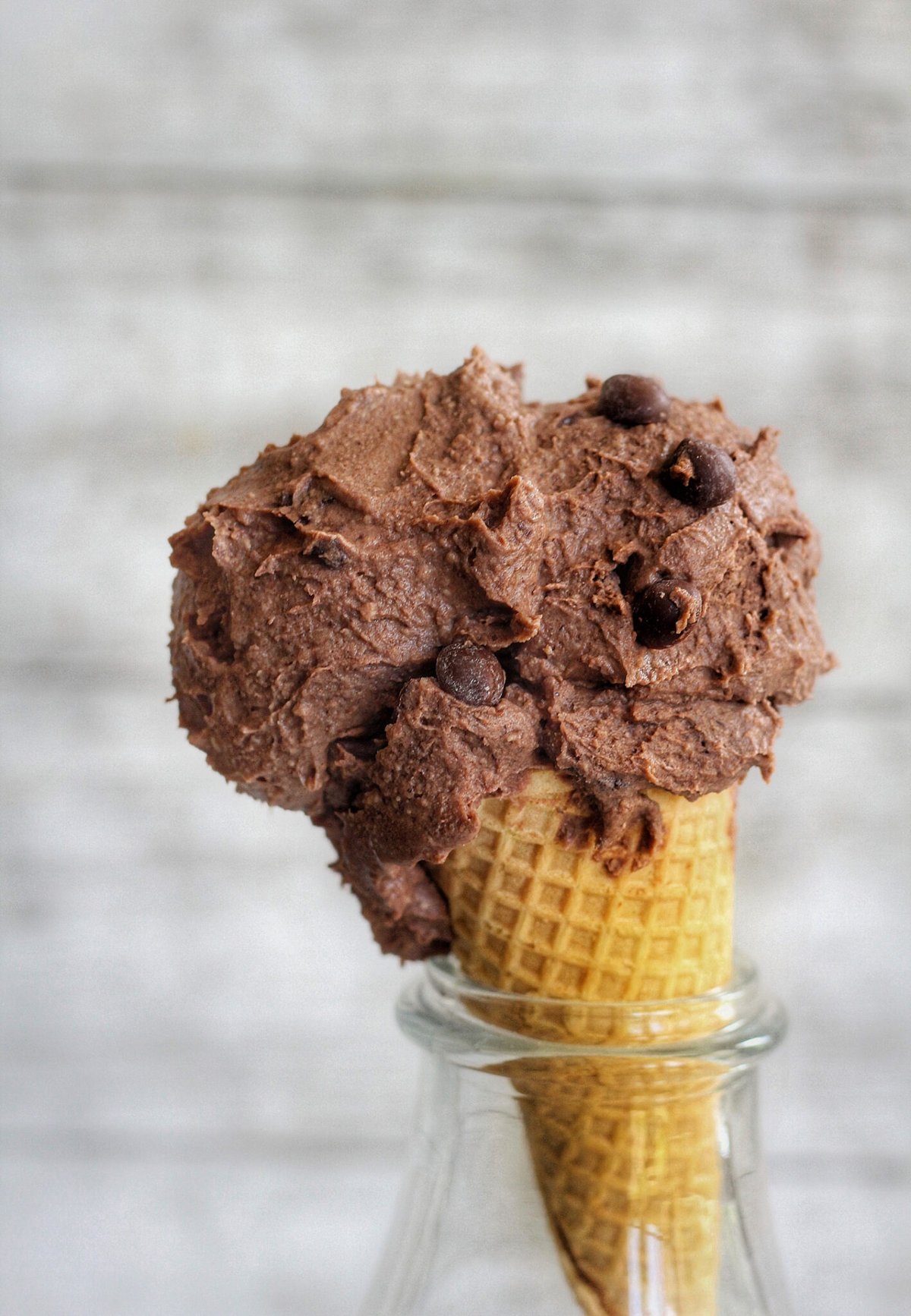 Instructions
Necessities
Rectangular baking tin 24 cm, powerful blender, measuring spoons
Instructions
De-seed Medjoul dates and soak in 240 ml freshly brewed coffee for 45 minutes to max. 1 hour. Press the dates down a little so that all dates are well covered.
Drain the dates well and drain the beans well through a fine colander.
First, finely mix the oatmeal and then add all other ingredients, except the chocolate chips, to the blender.
Mix everything until a smooth mixture is formed. After mixing, stir in the chocolate chips.
Line the baking tin with baking paper and spread the mixture evenly over the baking tin and place the baking tin in the freezer for about 4.5 -5 hours at -17 degrees Celsius. After approx 4,5-5 hrs hrs you can scoop perfect scoops with a warmed ice cream scoop. Do you want to keep the ice longer in the freezer?Then transfer it to an airtight storage tray. Bring the frozen mixture to room temperature for 45 minutes - max 55 minutes (depending on the room temperature), with the lid off, before scooping the balls.