Raw Rosy Raspberry Almond Cake
Ingrediënten
Crust
50 gram amandelmeel
50 gram pompoenpitten
1 theelepel amandextract /aroma geen toegevoegde suikers, mengen met de gesmolten kokosolie
8 stuks medjoul dates ontpit en in stukjes
50 gram pure gedroogde kokosrasp
35 gram kokosolie eerst wegen dan smelten
10 gram cacaopoeder raw
25 gram sesamzaad
Vulling
200 gram cashewnoten raw en geweekt
75 gram kokosolie eerst wegen dan smelten
160 ml volvette kokosmelk blik
1¾ - 2 tl amandelextract /aroma geen toegevoegde suikers, gebruik een maatlepel
¾ tl pure vloeibare stevia gebruik een maatlepel
175 gram frambozen vers of ontdooid
2½ tl rozen water* gebruik een maatlepel
klein snufje grijs zout
*Rozen water dat geschikt is voor consumptie. Destilaat van rozen en water en geschikt is voor het geven van smaak aan siropen, ijs, gebak en fruit.
Toppings
Cranberry poeder raw
Frambozen vers of ontdooid
Eén vijg
Gedroogde pure kokosrasp
Bounty Bars (bekijk het recept hier)
Rozen
Note: eetbare rozen zijn eventueel online te bestellen of gebruik "gewone" rozen en dan alleen voor decoratie.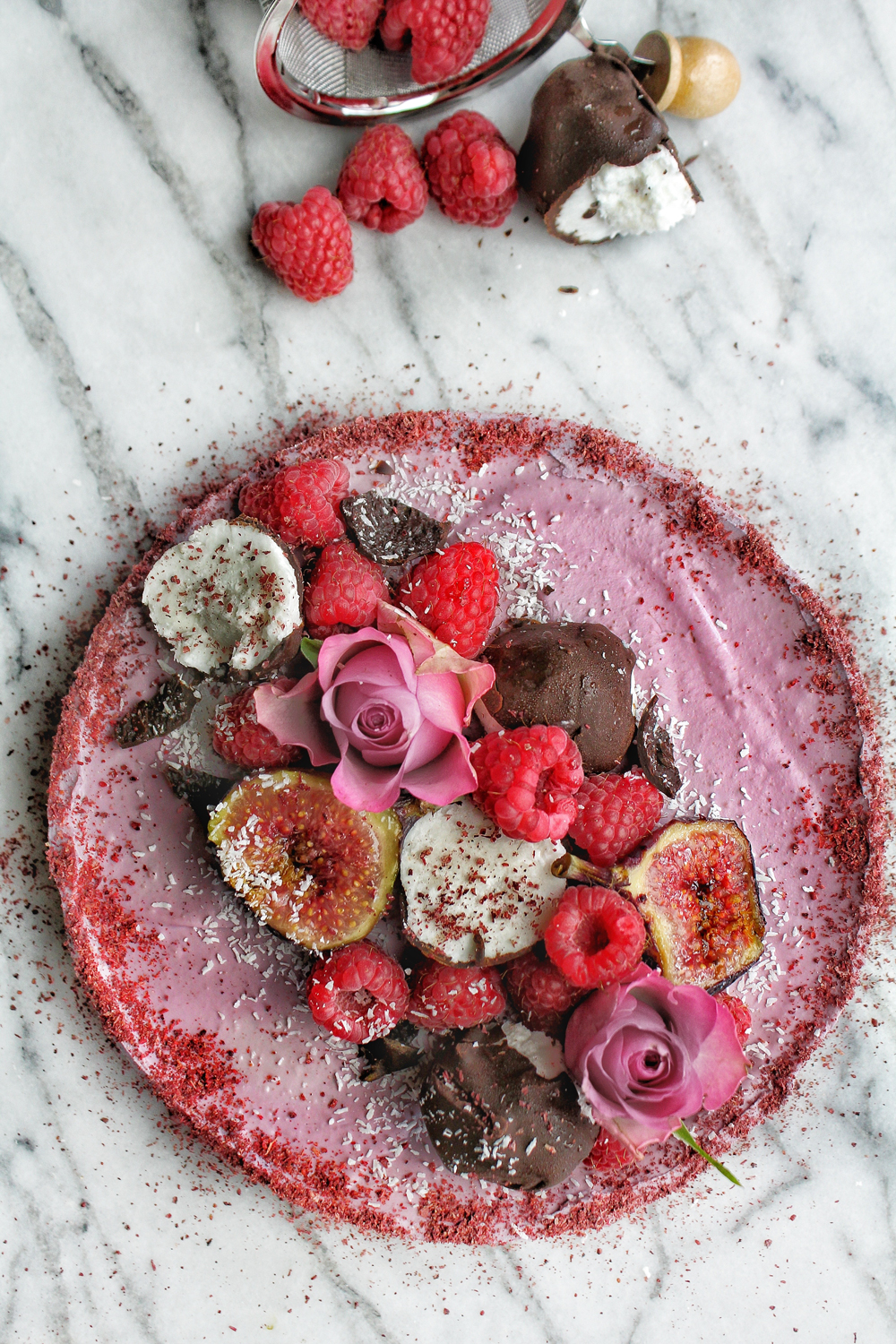 Instructies
Benodigdheden
Bakspringvorm 20 of 22 cm øKrachtige blender Maatlepels
Instructies
De cashewnoten tenminste een uur in kokend heet water laten weken.
Bakvorm licht invetten met een neutrale olie. (geen kokosolie)
Mix alle ingrediënten voor de taartbodem samen in de blender (behalve het sesamzaad) totdat er een kleverig deeg ontstaat. Roer daarna het sesamzaad er goed door.
Verdeel het deeg gelijkmatig over de bodem van de bakvorm .Zorg dat de hele bodem bedekt is en druk met je (schone) vingers goed de bodem aan.
Plaats de bakvorm nu 30 min in de koelkast
Mix alle ingrediënten voor de vulling glad in een krachtige blender en schenk de vulling op de taartbodem.
Laat de taart circa 6 tot 8 uur of een nacht opstijven in de koelkast.
Ga eerst met een mes langs de vorm van de bakring voordat je de ring losmaakt.
Bestrooi de rand van de taart royaal met cranberry poeder en garneer naar wens.
Ingredients
Crust
50 grams almond flour
50 grams pumpkin seeds
1 tsp almond extract / flavor no added sugars, mix with the melted coconut oil
8 pieces medjoul dates seeded and in pieces
50 grams pure dried coconut grater
35 grams coconut oil weigh first before melting
10 grams cocoa powder raw
25 grams sesame seeds
Filling
200 grams cashew nuts raw and soaked
75 grams coconut oil weigh first before melting
160 ml full-fat coconut milk can
1¾ -2 tsp almond extract / flavor no added sugars, use a measuring spoon
¾ tsp pure liquid stevia use a measuring spoon
175 grams raspberries fresh or thawed
2,5 tsp rose water * use a measuring spoon
a small pinch of gray salt
*Roses and water distillate and suitable for flavoring syrups, ice cream, pastries and fruit.
Toppings
cranberry powder raw
dried pure coconut grater
bounty bars (view the recipe)
raspberries fresh or thawed
one fig
roses
Note : edible roses* can be ordered online or use "normal" roses only for decoration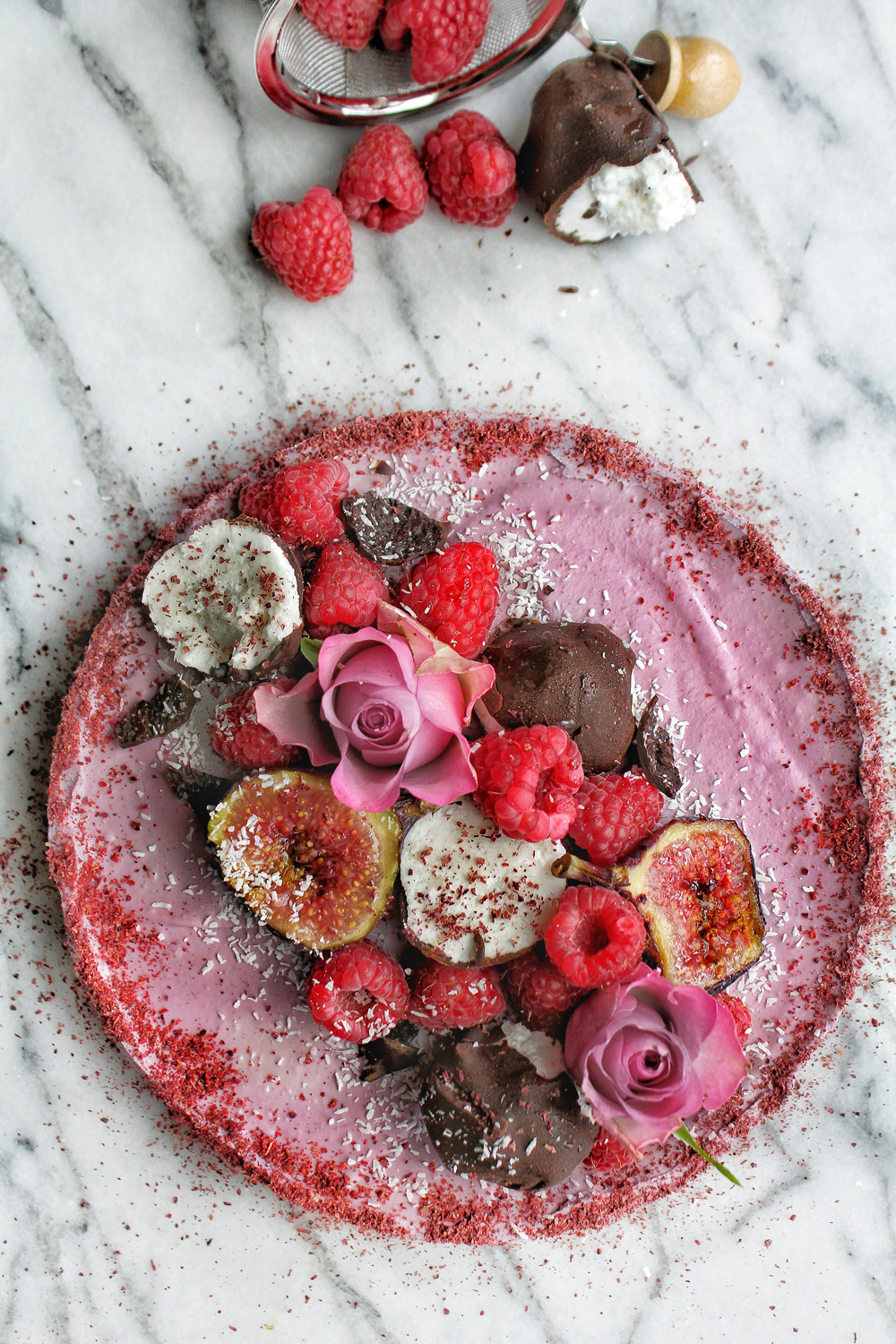 Instructions
Necessities
Cake spring form 20 or 22 cm øPowerful blenderMeasuring spoons
Instructions
Soak the cashew nuts for at least an hour in boiling hot water.
Lightly grease the baking tin with a neutral oil. (no coconut oil)
Mix all ingredients for the cake base together in your blender (except for the sesame seeds) until a sticky dough forms. Then stir in the sesame seeds.
Spread the dough evenly over the bottom of the baking tin.Make sure that the entire bottom is covered and press the bottom firmly with your (clean) fingers.
Place baking tin 30 min in the fridge.
Mix all ingredients for the filling smoothly in a powerful blender and pour onto the cake base.
Let the cake set in the fridge for about 6 to 8 hours or overnight.
Go with a knife along the shape of the baking ring before you loosen the ring.
Generously sprinkle the edge of the cake with cranberry powder and garnish as desired.